Ultraviolet light could reduce risk of foodborne illness from eggs
Siobhan Treacy | January 18, 2021
Researchers from Penn State have found a new way to disinfect fresh eggs for the food industry.
The team found that pulsed ultraviolet light is an effective alternative to some of the antimicrobial tech used in the poultry industry to kill pathogens on eggshells without water or chemical sanitizers.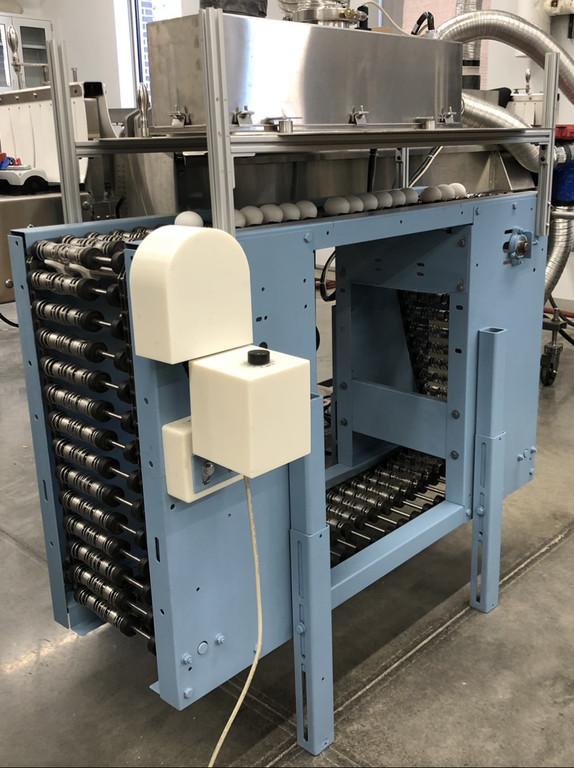 This novel conveyor devised for the experiment was instrumental in achieving acceptable decontamination.Source: Josh Casser/Penn State
Reducing the microbial load on eggs is important because it reduces the foodborne illness outbreaks associated with eggs and poultry meat. But it is important that this is done in a way that doesn't cause damage to potential chicks. The current methods to decontaminate eggs use sanitizers and detergents.
Pulsed ultraviolet light is more effective than sanitizers or detergents because it delivers a high-intensity ultraviolet light to the surface of an eggshell, which results in a greater microbial reduction in a shorter period of time than other treatments.
During the study, the surface of eggshells was exposed to non-pathogenic bacteria strains. The eggs were placed on a modified egg carrying conveyor that completely rotated them. The conveyor was created specifically for this experiment and it was ultimately the key piece to achieving acceptable decontamination. After they were placed on the conveyor, the shells were treated with pulsed ultraviolet light from a xenon flash lamp.
The eggs reached acceptable levels of germicidal response at 27 seconds of ultraviolet light exposure. With three pulses per second, the eggs were exposed to about 90 light pulses in 27 seconds. The treatment inactivated two microbial strains with better energy use and greater germicidal response than traditional methods.
The team also evaluated the effects that pulsed ultraviolet light treatment of hatching eggs had on embryo and chick growth. Four batches of 125 fertile eggs were treated with the same and greater intensity of pulsed ultraviolet light and were then placed in a commercial incubator under normal incubation conditions. The results showed no significant effect on the fertility or hatchability of the eggs and no significant effect on the chicks after hatching.
The team says that the xenon flashlamp could be scaled up and customized for commercial installation.
The study was published in Poultry Science.