GM shows off an all-electric flying car at CES 2021
Peter Brown | January 15, 2021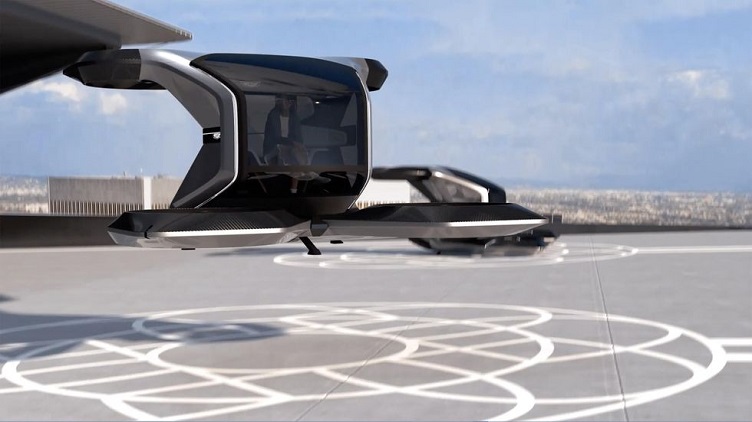 GM showcased its concept flying air taxi that may not ever come to market but it shows some of the technology it is working with for its electric cars. Source: GM
With fewer automotive prototypes and concept cars expected to be introduced at this year's CES, General Motors surprised the industry with its concept electric-vertical take-off and landing (eVTOL) autonomous flying car.
There have been numerous concept air taxis and other flying aircraft introduced at the tradeshow from traditional automotive OEMs over the years — including Hyundai and Toyota last year — with many of them never seeing the light of day.
These concepts include technology that may not make it into an actual vehicle, but could be used for other applications or devices. And much of the technology introduced is already being worked on in some way through these manufacturers.
According to GM, the Cadillac-branded eVTOL air taxi prototype would use GM's new Ultium batteries, motors and power electronics that the company plans to use for its upcoming heavy transition to electric vehicles (EVs) including sedans, trucks, SUVs and performance vehicles. GM said it plans for 40% of its U.S. fleet to be battery EVs by the end of 2025 and will invest more than $27 billion in the technology as the company transitions to vehicles that will impact climate change and reduce dependency on foreign fossil fuels.
In the announcement, GM did not commit to a production plan for the concept air taxi, but reports emerged late last year that the company was exploring flying cars as a potential market of the future and it would use the Ultium platform for whatever eVTOL it was cooking up.
Meanwhile, Fiat Chrysler Automobiles (FCA) entered into an agreement with Archer to develop an all-electric VTOL flying vehicle.
FCA, the brand behind Chrysler, Dodge, Jeep and Ram, already collaborated on cockpit design elements for Archer's first aircraft, which is expected to be unveiled in early 2021 with production slated for 2023. FCA's participation in the development of the aircraft will accelerate Archer's timeline for rollout, providing the startup with resources and capabilities for sustainable air mobility.
The aircraft will be 100% electric and capable of traveling up to 60 miles at 150 mph.
"Electrification within the transportation sector, whether on roads or in the air is the future and with any new and rapidly developing technology, scale is important," said Doug Ostermann, VP and head of global business development of FCA. "Our partnership with Archer has mutual benefits and will enable innovative, environmentally friendly transportation solutions to be brought to market at an accelerated pace."