The Valtek compressor anti-surge valve from Flowserve promises maximum productivity, lower surge risk
Engineering360 News Desk | January 12, 2021
Flowserve has combined precise flow control and superior responsiveness in a valve package that promises revolutionary anti-surge operation. The Valtek compressor anti-surge valve has been specially engineered to address the common challenges operators face in compressor applications. Compressor surge can lead to catastrophic equipment failure and costly downtime across many industries. Flowserve claims the Valtek will protect compressors by providing exceptional valve response times.
The key components of the Valtek valve package are:
Mark 100SC angle body valve
Logix 3800JF positioner
MegaStream noise control
Stealth noise control
Linear piston actuators
Actuator cushions
SpiralTrack feedback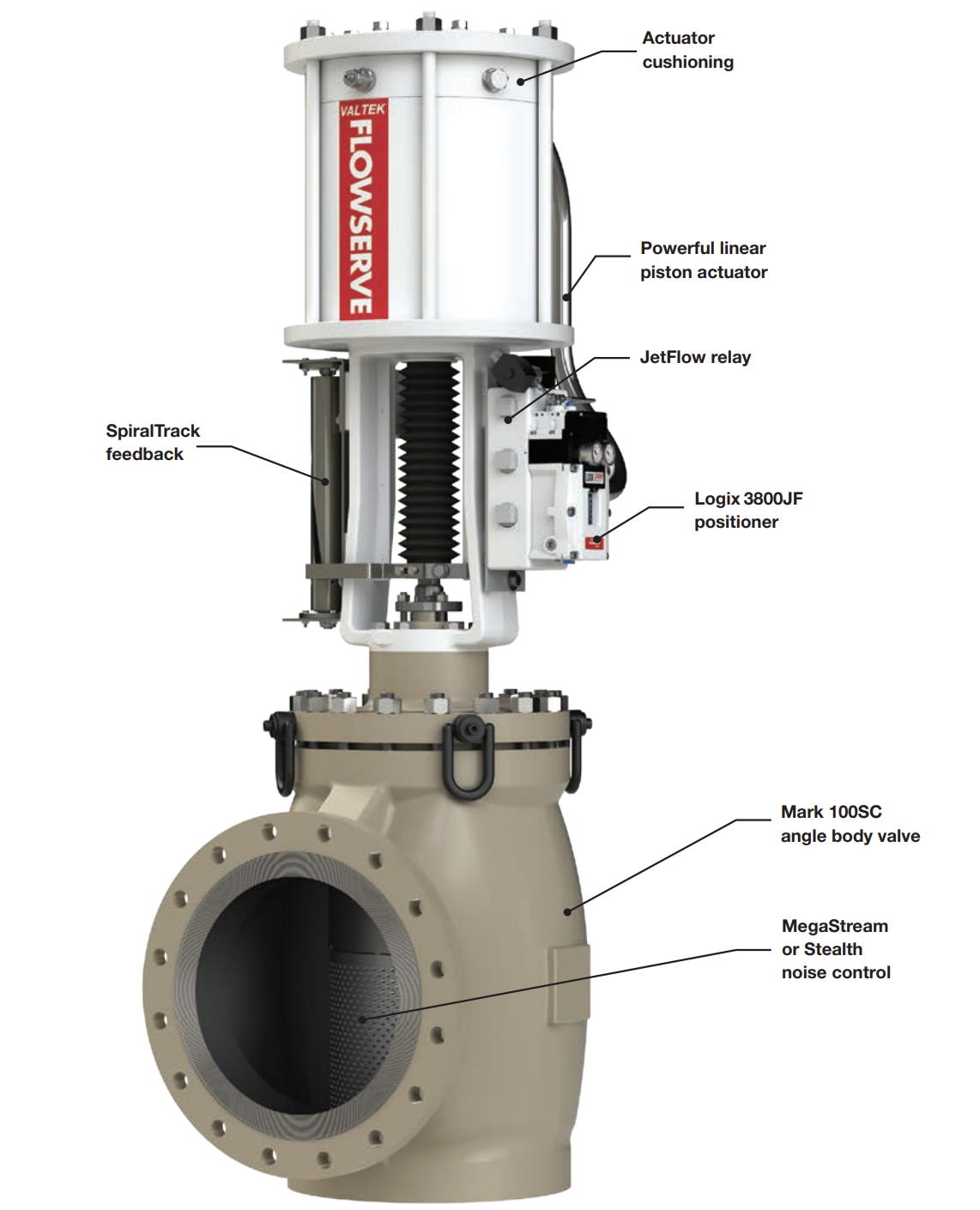 Source: Flowserve
Each component plays a critical role in valve operation, ensuring compressor surge protection while simultaneously enabling operators to run compressors close to the system surge line for increased productivity.
The Logix 3800JF positioner comes with a one-button configuration that simplifies set-up and tuning, delivering remarkably fast stroke speed as well as precision control. The SpiralTrack feedback eliminates long feedback arms while providing reliable electro-mechanical feedback to the positioner. A compact linear piston actuator provides high performance, and actuator cushions prevent impact damage during fast strokes. The Mark 100SC angle body valve contains an impressive large-volume gallery that can provide 51% to 248% greater capacity than similar anti-surge equipment.
Advanced options including the MegaStream and Stealth noise control trims minimize noise and vibration while reducing system wear, damage and downtime. The Valtek is available from sizes DN200 to DN750 (8 in to 30 in) in ANSI pressure classes 150#, 300# and 600#. Valve body materials are available in carbon steel, stainless steel and chrome molybdenum.
The Valtek compressor anti-surge valve is suitable across a range of industries and applications including LNG processing, natural gas transmission, refinery gas compression, olefin production, chemical processing with natural gas feedstock, and oil and gas exploration.