Polymers pinpoint drug precursors in wastewater
S. Himmelstein | January 05, 2021
An automated sensor system incorporating highly selective molecularly imprinted polymers was engineered to detect the presence of banned and illicit drugs in wastewater.
Researchers from Ghent University (Belgium), Central Forensic Laboratory of the Police (Poland), University of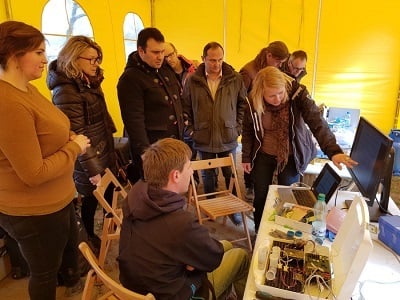 The researchers demonstrate the sensor system for police forces in Poland. Source: South Ural State UniversityJohannesburg (South Africa) and South Ural State University (Russia) synthesized polymers with an affinity for benzyl methyl ketone, a marker for amphetamines. The molecularly imprinted polymers were immobilized on the surface of gold transducers using tyramine as a linker and applied to the analysis of the drug marker in spiked tap water and real water samples. A linear working range of 50 μM to 1,000 μM was demonstrated with a limit of detection of 1 μM in tap water.
"Due to its simplicity, Leuckart synthesis is the most popular method of producing amphetamine. The well-known benzyl methyl ketone is reduced to N-formylamphetamine, and then it is hydrolyzed to a relevant amphetamine salt. After an alkaline compound is added, the salt turns into an amphetamine free base, which can be transported as a liquid to different countries, or even continents. The waste from the Leuckart reaction contains certain specific markers, which are indicative of the amphetamine synthesis. That is why we've been designing chemical sensors to identify certain amphetamine markers," explained Natalia Beloglazova, a researcher from South Ural State University.
The capacitive sensors are expected to be of value in monitoring wastewater for amphetamine drug precursors by regulatory and police authorities.