Solar power investment by NJ hospital pays off
Amy J. Born | January 04, 2021
Medical facilities are excellent candidates for solar power installations for a number of reasons, according to Silicon Valley-based SunPower, a leader in residential, commercial and solar storage solutions. Hospitals, surgery centers and medical campuses tend to be energy-intensive facilities, with vital equipment that runs 24/7. The average energy cost for a hospital is $675,000 annually. In addition, solar power is clean energy that allows healthcare facilities to have a positive impact on the environmental health in the communities they serve.
One notable example of this is CentraState Medical Center in Freehold, New Jersey. Its new 1.6 megawatt (MW) solar carport will generate around 2.1 million kilowatt hours of solar electricity per year, which equates to a year's worth of electricity supplied to 253 homes. This is the highest percentage of solar energy for any New Jersey hospital as well as one of the largest solar distributed generation facilities supplying electricity to a hospital on the East Coast of the United States.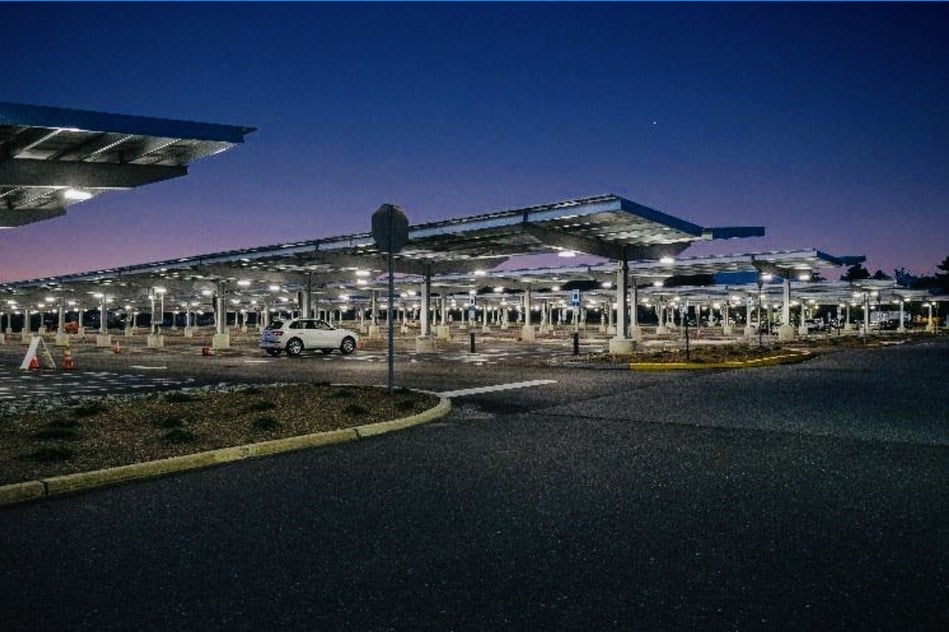 CentraState solar panels at night. Source: KDC Solar
The project began with a 7 MW ground mount system, commissioned in 2014, and continued with the 3.9 MW solar carport system, commissioned in 2019. Both projects were developed and built by KDC Solar. Combined, the two systems provide 70% of CentraState's electric requirements. Plans for adding solar carports in the Emergency Department parking lot are underway.
CentraState Healthcare System received the New Jersey Business and Industry Association's New Good Neighbor Award for the project and its support of a cleaner, greener community. Award recipient projects are selected for economic value, architectural merit, job creation and community involvement.
Alan Epstein, president and chief executive officer of KDC Solar, described the project as "...another example of a successful 'net-metered' solar electric system for business, government and institutions, which in turn create and preserve both short and long-term jobs."
Read more about large-scale solar projects and innovations in the U.S.:
From holy grail to holy cow! Energy storage adoption accelerates
Massive solar plus storage project cleared a hurdle
Watch: Floating PV could significantly add to US solar energy production