Video: Earring enables glucose monitoring in style
S. Himmelstein | December 17, 2020
Monitoring blood glucose levels by those with type 1 diabetes typically involves frequent finger pricks and analysis. A non-invasive monitoring approach based on a fashionable wearable device designed by a student from University of Huddersfield, U.K., replaces the sting with bling.
The Sense Glucose Earring requires only a single earlobe piercing to enable blood glucose tracking via high-frequency radio-waves that penetrate through the lobe and provide data on blood chemistry. The user receives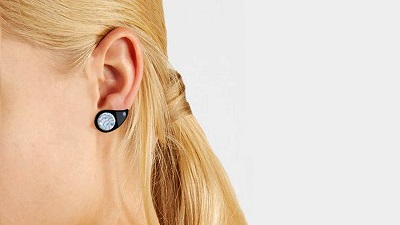 The earring monitors blood sugar levels and delivers feedback in real-time. Source: University of Huddersfieldreal-time readings on blood sugar by means of a smartphone app while forgoing the need for drawing blood samples.
Powered by rechargeable batteries, the device is intended to encourage teenagers and children to better manage their diabetes.
"By making the monitoring process as easy as say, measuring your heart rate on a smart watch, I hope this will lessen the stigma, so it becomes much more a part of everyday life," said inventor Tyra Kozlow. The design earned her a finalist designation in the 2020 Global Grad Show.
Wearable devices masquerading as jewelry are making inroads in the medical diagnostics and health monitoring fields. Another recent relevant development is a ring engineered to monitor wearer's temperature, heart and respiratory rates, and activity levels in order to detect fever before any other COVID-19 symptoms, such as cough and fatigue, emerge.