Video: Sustainable energy storage systems tailored for renewables
S. Himmelstein | December 13, 2020
A new company launched by Hydro-Québec designs and supplies sustainable energy storage systems for power producers, transmission providers and distributors. The modular units offered by subsidiary EVLO Energy Storage Inc. are also intended for use in commercial and industrial markets for medium- and large-scale storage and include power control and energy management software.
The storage systems are based on proprietary lithium iron phosphate batteries, which deliver superior thermal and chemical stability compared to traditional lithium-ion cells. Unit design provides intrinsic protection against thermal runaway with a smaller environmental footprint. The systems are assembled from abundant nontoxic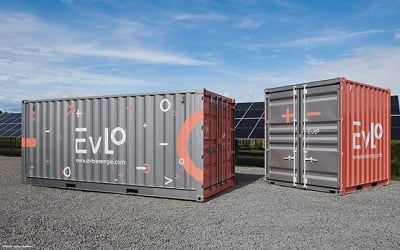 The sustainable large-scale energy storage systems use proprietary lithium iron phosphate battery cells. Source: EVLO Energy Storage Inc.materials and can be recycled using a process that allows 99% of the active materials to be recovered and reused.
The cells provide 100% depth of discharge and have a round-trip efficiency of almost 90% when passing through a transformer, energy storage system and inverter. A service life of up to 7,000 cycles, or 15 years, can be realized without the need to replace battery modules.
Hydro-Québec is testing the integration of new technologies in solar power and energy storage so as to optimize the penetration of renewable energy in off-grid systems. EVLO storage systems have been demonstrated under actual operating conditions on Hydro-Québec's grid for peak shaving in the Montérégie region. Trials in the Quaqtaq off-grid system in northern Québec involved 69 solar panels and two EVLO systems designed to operate at temperatures as low as -60° C. The technology is also being tested in an urban microgrid composed of 1,700 solar panels in Lac-Mégantic, Québec.