GEMU M75 process solenoid valve with sophisticated bellows for pressure compensation
Diana Aoun | December 10, 2020
GEMU has released a cleverly designed solenoid valve with pressure compensation using double bellows principle. The M75 is suitable for open/close applications and processes with operating pressures of up to 6 bar (87 psi), even for larger pipe diameters. The directly controlled valve uses a highly compact, epoxy-encapsulated coil and is available in a range of supply voltages. The M75 can be used for gaseous and liquid media and is suitable for vacuum applications.
Characterized by short operating times, solenoid valves are especially suited for dosing steps in mixing technology. They are widely used in a range of industries including chemical processing, water treatment, electroplating, or washing and cleaning installations. Solenoid valves represent a low-maintenance alternative to pneumatic or motorized valves, which are more costly, particularly for smaller nominal sizes. Operators, however, must often turn to more expensive solutions due to the pressure limitations of conventional solenoid valves. The GEMU M75 solves that problem and offers a cost-effective solution without compromising on quality and performance.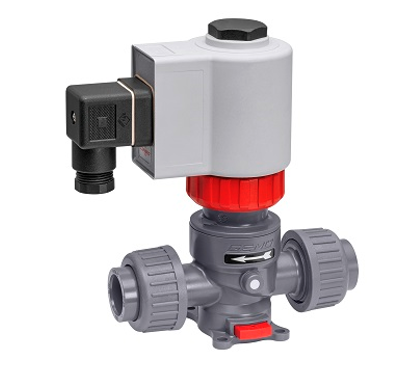 Source: GEMU
The design of the M75 also reduces cost thanks to an energy-saving reduction in holding current. The use of double bellows within the valve body compensate for static and dynamic pressure forces, thus enabling a higher pressure rating within a compact design.
The GEMU M75 is available in a range of high-quality materials, including PP, PVC and PVDF for corrosive media. Several O-ring designs provide hermetic separation between the process fluid and the actuator depending on the application. The compact solenoid valve is suitable for nominal pipe sizes of DN 8 to 15 and can be extended to DN 20 with an adapter.
For easy maintenance, GEMU has designed the M75 so that the solenoid coil can be easily removed without having to remove and drain any piping. An electrical position indicator can be fitted to the top of the valve, along with the option of an LED optical power indicator.