Food packaging film can destroy COVID-19
Marie Donlon | November 20, 2020
A Brazil-based plastics manufacturer is incorporating an anti-viral additive capable of inactivating SARS-CoV-2 — the virus that causes COVID-19 — into its plastic film used to package food products.
Alpes incorporated a silver and silica nanoparticle additive developed by Nanox, another Brazilian company, into its transparent and stretchable PVC film for packaging food products like meat, fruit and cold cuts, for instance.
In the lab, the team discovered that the silver-silica nanoparticle enhanced film with its antiviral properties destroyed 79.9% of SARS-CoV-2 particles in just three minutes and destroyed 99.99% of those particles in 15 minutes.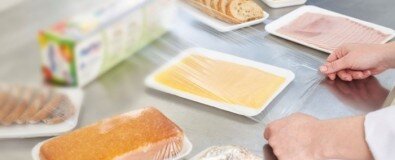 In laboratory tests, the material eliminated 79.9% of SARS-CoV-2 particles in three minutes and 99.99% in up to 15 minutes. Source: Alpes
This, according to the film's developers, far surpasses the amount of time — four hours — demanded by the International Organization for Standardization's (ISO) ISO 21702:2019, which is the technical standard that governs the measurement of antiviral activity on plastic (and other non-porous) surfaces.
This is just one of many surface technology developments to emerge from the COVID-19 pandemic. Antimicrobial films have also been developed to keep those working in the oil and gas industry from contracting the virus.
For more on the surface technologies to emerge from the COVID-19 pandemic, read "Scratching the surface of COVID-19 — The coating, film and other surface technologies to emerge from the pandemic."