The new 'quick cleaning' FQ pump by MAAG Group provides flexible cleaning capability for demanding processes
Diana Aoun | November 10, 2020
MAAG Group recently launched the new 'quick cleaning' version of its industrial gear pump series, giving customers a highly flexible pump with superior cleaning capability for stringent chemical processes.
Due to the unique nature of this new technology, MAAG is keeping the specific details of the mechanisms used in the FQ under wraps for proprietary reasons. It has, however, revealed that the FQ targets production facilities that demand continuous cleaning and washing of transfer lines at the end of each production batch (for example, where different colors and different additives are used).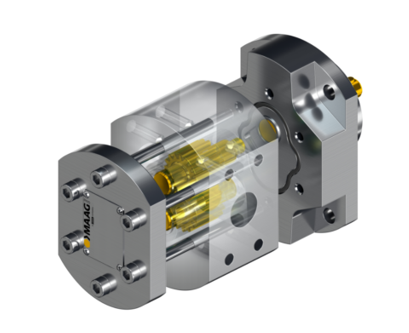 Source: MAAG Group
MAAG released the FX Flexinox and DX Dosix pumps in 2019, which further enhanced the company's suite of gear pumps. The FX and DX gear pumps are chemically resistant and can be used for different chemicals involving highly pure, corrosive, viscous or high temperature liquids. By adding the FQ pump to its portfolio, MAAG allows customers to meet the ever-increasing demands of the industry with little to no disruption to existing system set-up. MAAG provides customers with the option of selecting the FQ as a standalone pump model or choosing the FQ 'kit,' which can be easily retrofitted to existing pumps in the series (CX, TX, FX and DX).
The new FQ pump can provide customers with the adjustments required for production and maintenance of their systems without compromising the desired operating characteristics. The FQ kit option facilitates easy maintenance and parts replacement when retrofitted to existing pumps in the series. Furthermore, MAAG ensures that the seal flange can be fitted to different pump sizes in order to accommodate a range of process fluids and flowrates. This allows customers to maintain the same seal flange and system configuration with the flexibility of changing the flowrate based on the size of pump being installed.