Emerson introduces the Fisher V280 full-bore ball control valve
Diana Aoun | November 02, 2020
In the latest addition to its robust ball valve portfolio, Emerson's V280 full-bore control valve comes in a fully rated ANSI Class 900 capable of handling pressure drops of up to 153.2 bar. The Fisher V280 showcases a range of features, most notably the capability of handling large pressure drops in the liquid or gas phases and optional seal materials that can handle temperatures from -46° C to 204° C.
Earlier this year, Emerson released its V260 a full-bore control valve with similar features, but the V280 valve has been re-engineered with a significantly simplified design and reduced number of parts. The same construction for the inlet and outlet has been utilized to allow for easy retrofitting of seals and attenuators. With its unique design, the V280 provides excellent flow control — optimizing performance while simultaneously controlling vibration and noise.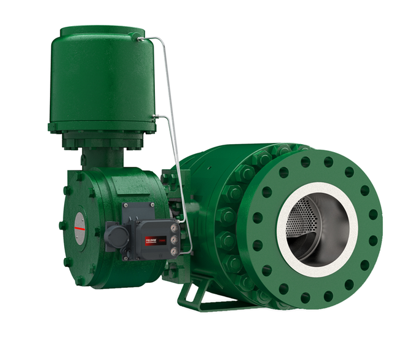 Source: Emerson
As with the V260 range, the V280 ball valves comes with the Aerodome attenuator for gas applications, the Hydrodome attenuator for the liquid phase or without an attenuator for automated control in applications where little-to-no restriction to flow is required (e.g., for bypass, batch, monitor and emergency shutoff service applications).
The V280 with an Aerodome attenuator used in gas applications can achieve acoustical attenuation of up to -20 dBA with a single-stage construction or -25 dBA for the dual-stage construction. It is effective for demanding applications such as anti-surge or station recycle.
The V280 with Hydrodome attenuator used in liquid applications provides improved performance for demanding applications such as pump bypass or pipeline take-off. The unique internal design helps to eliminate or reduce cavitation associated with pipeline noise and vibration specific to the liquid phase.
The standard V280 comes as a single-seal construction with the option of a dual-seal construction that allows bi-directional flow and double block-and-bleed operation. The standard V280 also has sour service and sour crude oil capability with standard construction materials that comply with the relevant NACE requirements. Various other customized options and auxiliary fittings are available to suit hazardous or testing operational environments.