Internet of Medical Things: Nurturing Innovation
Shane Walker, director medical technology, IHS | September 24, 2015
Two things are abundantly clear; average life expectancy is increasing globally as well as healthcare expenditure. However, an aging population should not be viewed as negative in terms of escalating health costs, but rather an impetus to bring technology to bear on further improvements to our quality of life.
As Nariman Behravesh, lead economist with IHS, has noted that "nurturing the process of innovation will ensure that the huge improvement in the human condition that has occurred over the past two centuries was not a fluke of history."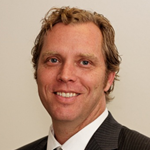 Shane Walker, director medical technology, IHS Indeed, nurturing innovation was the primary topic of conversation at Qualcomm Life Connect 2015 (Internet of Medical Things) held in San Diego. With cautious optimism about short-term growth expectations for digital health and more resolute optimism for growth in the long-term, the event brought together key players in the digital health ecosystem that are making use of Qualcomm's 2net/Healthy Circles connectivity platform. This article is a synopsis of Connect 2015 with additional insight from the recent works that IHS has conducted in regard to digital health.
Digital Health Defined
Digital health, also known as virtual healthcare, promises better quality of care at a lower cost, which is the objective of all modern healthcare systems. The expectations have been high, but often we have found that a lack of understanding surrounding digital health technologies and their role in healthcare leads to disappointment and inefficient use of resources.
At its inception, digital health, including telemedicine and remote patient monitoring, undertook an objective that seemed assured to revolutionize healthcare on its own, solely through new technology. However, slow uptake and lack of significant scale eventually led to some skepticism about the impact of consumer-oriented technologies on healthcare delivery.
During the welcome address at Connect 2015, Qualcomm Life senior vice president Rick Valencia said that the company continues to sign contracts with many partners (most recently Davita Healthcare Partners and North Arizona Healthcare), but moving beyond proof of concept to true scale has yet to be achieved. As such, a long-term view on the role of digital health is forming with an eye toward using new channels of care provision to sustain patient engagement throughout the care continuum.

A continuum of digital health offerings. Image source: IHS With the technology in place, and reimbursement models shifting toward outcome-based pay, IHS predicts the number of people monitored through a digital health platform will rise to 4 million during 2020, with 70 million virtual consultations being conducted that year.
Market Drivers
Important drivers of this expected demand, especially in the U.S., stem from recent regulations issued by the Centers for Medicare and Medicaid Services (CMS). These include the requirement for 80% of reimbursement to be value-based by 2018, the enablement of reimbursement without face-to-face interaction of patient and provider (known as chronic care management) and incorporation of patient-generated data into the electronic health record (EHR) as part of meaningful use. All of these initiatives will help spur risk-bearing entities (RBEs) to engage with digital health to ensure compliance and obtain reimbursement.
James Mault, chief medical office for Qualcomm Life, also drew attention to a recent report from the Office of the National Coordinator for Health Information Technology (ONC), which squarely focuses on the issue of health information blocking by certain persons and entities in an attempt to unreasonably limit the exchange of data, which is frustrating the goals of the Health Information Techonology for Economic and Clinical Health (HITECH) Act.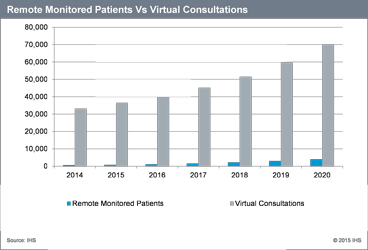 Expected growth in remote health monitoring and virtual consultations. Source: IHS In 2014, the ONC received 60 unsolicited reports of potential information blocking with examples including EHR vendors that are charging cost-prohibitive fees to send or receive health information (or to establish interfaces that enable connectivity with other providers) and healthcare providers that block information in order to control referrals and secure their market dominance. While the ability to gather empirical data on information blocking is limited today, the ONC aims to create a mechanism for more focused examination of the problem, which will inevitably deliver results.
Some of the actions the ONC has already started; include strengthening in-field surveillance, promoting greater transparency in certified EHR products and referring illegal practices to law enforcement agencies. This is important to the future of digital health as information blocking may also occur with patient-generated data.
Making Healthcare Consumer-Centric
Harry Greenspun, director of the Deloitte Center for Health Solutions, discussed the need for more consumer-centric rather than product-centric thinking behind healthcare delivery. In recent research, Deloitte has found that it is difficult to tease out whether or not a person's perception of their care is based more on service than the actual outcomes. This may include a situation where their physician is facilitating valuable long-term outcomes, but the front office staff is not responsive and diminishes the patient's experience and perception of the practice. As such, it is important to consider every aspect of care provision and ensure that each step is positive and motivating for the consumer.
Healthcare providers may need to look to other industries to identify ways to better engage with consumers. For instance, using social leaderboards to increase adherence and broadening data sets to include purchasing habits and other lifestyle choices that may help inform therapy and create an impact on health outcomes.
Adam Pelligrini, vice president of Digital Health at Walgreens, pushed this concept further with an overview of Walgreen's patient-centered transformation of their retail care experience. This includes a blood pressure monitor and glucose meter that work over the 2net platform, in addition to expanding MD Live to 25 U.S. states by the end of 2015 (MD Live is a virtual on-demand healthcare delivery service). In the last two years significant investment in services such as MD Live have been made, which also includes Doctor on Demand, American Well and Teladoc. These four have raised more than $250 million in investment funding, and it is likely that more payers and employers will integrate these telehealth solutions into their traditional care delivery model.
Other talks given during Connect 2015 included Eric Topol's presentation on democratizing medicine and Qualcomm President Derek Aberle's discussion on machine learning and a new chip to be released at year end, which will have intuitive cognitive ability to detect anomalies based on use patterns.
Qualcomm has invested resources over the last decade in laying the ground work for connected digital health delivery, and Connect 2015 served as a good indicator of the impact this investment will have in the coming years. Similar to Qualcomm's pervasiveness in mobile communications, we can expect the company to be at the forefront of connecting digital health.