Watch how tea and magnets combine to combat biofilms
S. Himmelstein | September 30, 2020
Intelligent micromachine technology has been advanced by researchers from Indian Institute of Technology Guwahati to attack biofilms that form on medical implants and instruments. Biocompatible microbots composed of antibactericidal polyphenols extracted from tea buds are directed with magnets to destroy and remove these potentially hazardous agents of hospital-acquired infections.
Porous microparticles derived from Camellia sinensis tea buds were coated with magnetite nanoparticles to enable manipulation by magnet. The antibiotic ciprofloxacin was also embedded within the porous structures to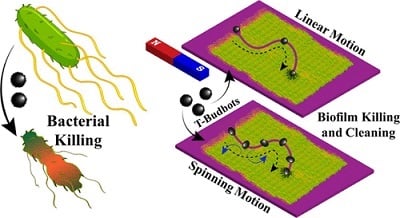 Biocompatible micromotors derived from tea buds can be magnetically driven on a biofilm matrix and remove biofilms. Source: Tamanna Bhuyan et al.bolster the bactericidal power of the T-Budbots. When added to biofilms grown in dishes and directed by magnet, the microbots were demonstrated to penetrate the films and kill pathogenic bacterial communities of Pseudomonas aeruginosa and Staphylococcus aureus. Biofilm remnants adhered to the T-Budbots, effectively cleaning the previously bio contaminated surface.
The researchers observed that antibiotic release can be controlled by tuning the surrounding pH of the T-Budbots. The acidic environment of the biofilm facilitates the release of antibiotics from the porous micromachines, and drug delivery is markedly reduced at higher pH.
The proof of concept study indicates the utility of this approach for the non-invasive destruction of harmful biofilms.