Watch: Nanogenerator harvests low velocity wind energy
S. Himmelstein | September 29, 2020
A very small-scale wind energy harvester has been designed to exploit the low velocity winds not harnessed by conventional wind turbines. The triboelectric nanogenerator is designed to scavenge wind energy from breezes such as those created by a brisk walk.
The device is composed of a ferroelectric polyvinylidene fluoride film with a silver electrode and a second film of the same plastic coated with fluorinated polyethylene propylene. The film strips are placed in a plastic tube in parallel with an air stream flow, causing them to flap, become electrostatically charged and generate a current.
A breeze as gentle as 1.6 m/second was sufficient to power the triboelectric nanogenerator. An input flow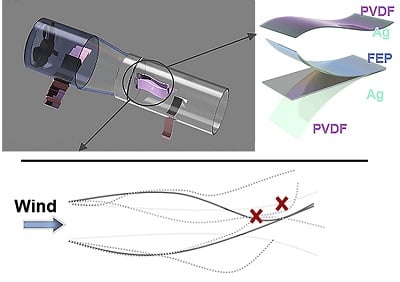 The structure and components of the wind harvesting nanogenerator. Source: Xin Chen et al.velocity of 8 m/second resulted in output voltage, current, and power of 175 V, 43 μA, and 2.5 mW, respectively, for a 3 × 8 × 2 cm3 device. The nanogenerator was also demonstrated to power 100 LEDs in series and to charge a 100 μF capacitor to 3 V within three minutes.
A wind-to-energy conversion efficiency of 3.23% renders the technology suitable for the development of wearable nanogenerators to power small electronic devices or for inclusion in fabrics that can harvest energy from friction.
The research conducted by scientists from Chongqing University (China), Chinese Academy of Sciences, Tongji University (China) and Infineon Technologies Asia Pacific Pte. Ltd. (Singapore) is published in Cell Reports Physical Science.