Watch: Untethered origami robots designed to unfold in the human body
S. Himmelstein | September 25, 2020
An origami-inspired robotic system with potential applications in less invasive surgical procedures and targeted medicine delivery has been engineered by researchers from Georgia Institute of Technology and Ohio State University.
Magnetic control distinguishes the new technology from previously developed miniature, untethered robotic systems for biomedical use. Slow, wired or bulky actuators are eliminated by use of a magnetically responsive material to achieve untethered and local/distributed actuation with controllable speed, which can be as fast as a tenth of a second with instantaneous shape locking. A soft polymer composite embedded with magnetic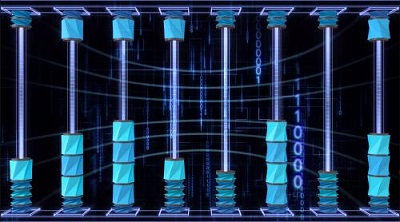 The micro-robotic origami abacus integrates actuation, sensing and computing through untethered magnetic control. It separates the power source and controller out of the origami assemblage by using field-responsive materials, which allow distributed actuation of each origami unit. Source: Larissa S. Novelino et al.particles can be controlled remotely.
Independently controlled folding and deployment of the origami units facilitates delivery of treatment. The tiny devices unfold when the target is reached, allowing site-specific delivery of payloads. The magnetic-responsive polymer was arranged in a cylindrical Kresling pattern of identical triangular panels in a structure that allows the cylinder's walls to buckle under axial or torsional load. Attaching a magnetized plate to each Kresling unit cell enabled use of a 2D magnetic field to activate the unit cells independently or simultaneously.
The researchers manipulated the magnetic field under laboratory conditions to demonstrate control of the robot's direction and speed of folding and deployment mechanisms. Untethered actuation was achieved in as fast as one tenth of a second with instantaneous shape locking.