Copper-coated masks being developed to fight COVID-19
Marie Donlon | September 18, 2020
Researchers from Indiana University's School of Engineering and Technology are attempting to incorporate copper, a metal with antimicrobial properties, into the design of face masks used in the fight against COVID-19.
To create more effective masks with a structure that blocks microscopic air particles while simultaneously offering appropriate ventilation, researchers are devising copper coated 3D-printed plastic filters. Taking inspiration from fish gills, the team developed a v-shaped prototype of "fins," with the intention of increasing the surface area where air passes through multiple channels.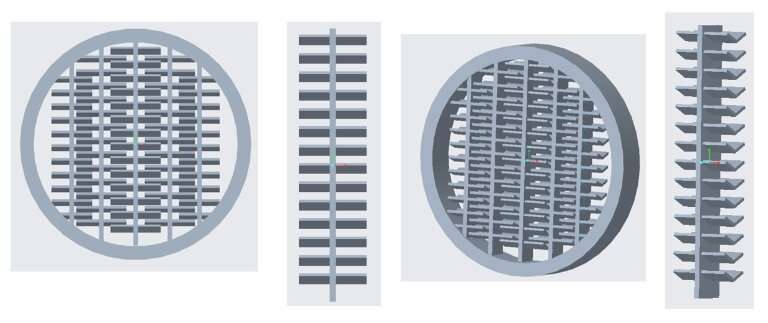 In the prototype of the mask's filter, a ring with V-shape "fins" was designed to increase the surface area where air passes through more channels. Source: Jing Zhang, School of Engineering and Technology
To achieve this, the team settled on two different approaches. The first relies on a green-laser metal 3D printer to produce the copper structure. The second approach relies on 3D-printing a plastic design and electroplating, where the plastic component is submerged in a liquid mixture that contains copper ions. Those copper ions are then migrated and blanket the surface under an electric field.
The research team believes that the technology could be used in other systems including as an addition to air vent filters in buildings and airplanes.