Report: GM may get into the flying car business
Peter Brown | September 17, 2020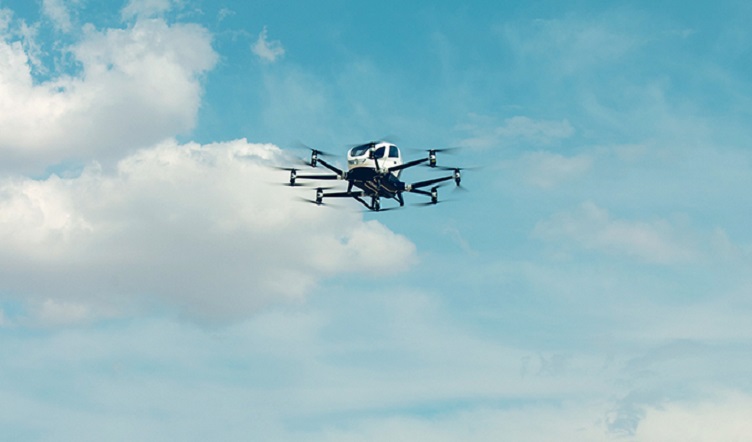 EHang is a Chinese flying car startup that is developing its own air taxis and is one of several startups and major transportation companies developing the next generation transportation technology. Source: EHang
General Motors may join several other automotive OEMs in exploring the potential of flying cars, or air taxis, as a potential new market for the future of transportation.
GM's CEO Mary Barra said at the recent RBC Capital Markets Global Industrials Virtual Conference that electrification and its Ultium battery system may not be used just solely for automotive uses — opening the doors for other opportunities such as aerial mobility, according to a report from CNBC.
Earlier this year, Toyota invested more than $390 million in flying car startup Joby to develop and commercialize air mobility and prototype aircraft after already investing $100 million in the company showing its commitment to the technology. At this year's CES tradeshow, Uber and Hyundai released a full scale air taxi prototype with the ability to go up to 180 mph and trips up to 60 miles.
Air taxis are typically vertical take-off and landing (VTOL) aircraft that contain electric motors. They typically do not require runaways for takeoff or landing, instead the rotors allow the aircraft to lift off vertically. The idea of air taxis is to not just give a new opportunity for transportation but potentially free up traffic congestion on roads, however, long-term adoption of flying cars could cause air traffic to be a problem.
While several transportation companies including Boeing are exploring flying cars, a host of startups are pushing their own prototypes into the market such as Volocopter, Lilium GmbH, Bell Textron's transportation pod concept, Chinese flying car startup EHang, PAL-V's Liberty hybrid flying car/automobile concept, Alaka'i Technologies' flying passenger shuttle and AeoMobil's new concept.
CNBC said there are more than 100 aerial vehicle startups in development — including automated drones as well as vehicles — that have raised more than $2.3 billion to bring the market to life.
The report indicates that GM is weighing its options on whether to build its own flying car or potentially work with another company in a collaboration but an announcement about its plans could come early in 2021.
While GM has not made an official statement on its plans, a GM spokesman told CNBC "It's an area we're really excited about and looking at."