Video: Groundwater monitoring method pinpoints pollutant sources
S. Himmelstein | September 10, 2020
The contribution of wastewater treatment plants to groundwater quality degradation can be difficult to distinguish in areas that may also be impacted by urban, agricultural and other industrial activities. A monitoring method based on detecting stable and radioactive isotopes and contaminants of emerging concern (CECs) was tested in Australia and demonstrated to provide accurate delineation of wastewater-derived impacts relative to other sources.
Researchers used measurements of stable and radioactive isotopes in conjunction with an epilepsy medicine, a herbicide and an antibiotic as CECs to discriminate between multiple potential contamination sources at a wastewater treatment facility. Tritium provided a sensitive indicator of recent effluent input from the plant to the underlying groundwater system, a finding corroborated by stable isotope values measured in wastewater and groundwater. The ratio of the epilepsy drug to herbicide concentrations also offered an indicator of source-specific wastewater impacts, with elevated ratios documented upgradient of the treatment plant.
Researchers from RMIT University (Australia), Australian Nuclear Science and Technology Organisation, BlueSphere Environmental (Australia), South East Water (Australia), University of Newcastle (Australia) and the Chinese Academy of Sciences contributed to this study.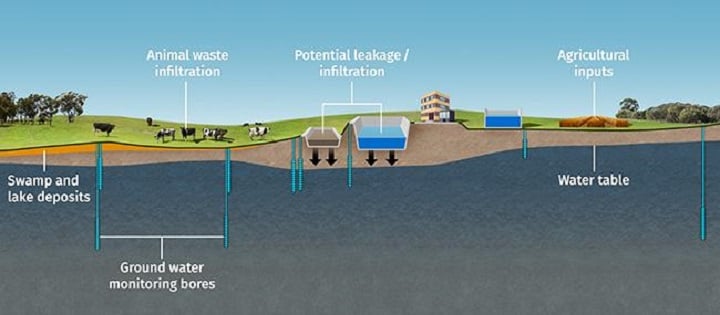 The method provides accurate delineation of wastewater treatment plant-derived impacts relative to other sources. Source: Australian Nuclear Science and Technology Organisation