Robotics, supply chain tech firms to create automated robots for manufacturing, warehouse spaces
Engineering360 News Desk | August 24, 2020
Autonomous robot manufacturer Geek+ and supply chain tech company Körber will jointly develop autonomous mobile robot (AMR) solutions for the manufacturing and warehouse spaces.
Combined, the companies bring artificial intelligence (AI), robotics, software and machine learning to develop the AMRs, which are intended to solve challenges facing the manufacturing industry — particularly challenges presented by the COVID-19 pandemic.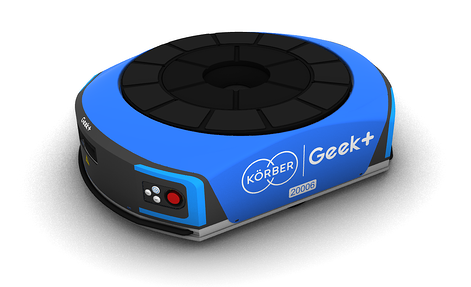 Source: Geek+
Among those challenges are labor shortages, health risks, inconsistent demand fluctuations and supply chain interruptions.
John Santagate, vice president of robotics at Körber Supply Chain — Software, said: "With the right technologies and partner, businesses can turn today's supply chain complexities into a strategic differentiator with robotics."
"Be it the rise in consumer expectations, increasing product counts, supply network complexity, or growing distribution channels, Körber's relationship with Geek+ empowers businesses to effectively integrate mobile robotics into their operation in the effort to revolutionize workflows across the globe."