An assessment of COVID-19 risk to wastewater industry personnel
S. Himmelstein | August 17, 2020
A panel of wastewater collection and treatment experts representing industry, academia and the U.S. government was convened by the Water Environment Federation (WEF) to evaluate the safety of wastewater workers during the coronavirus pandemic. The analysis concluded that occupational risk of infection is low as standard wastewater treatment processes inactivate the virus. However, additional research is recommended to further increase understanding of hazards and protections for personnel.
Best practices for protecting the health of workers exposed to wastewater should be followed, such as engineering and administrative controls, safe work protocols and use of personal protective equipment (PPE) normally required for tasks when handling untreated wastewater. At locations where wastewater or sludge is sprayed, the possibility of inhaling potentially infectious agents will increase and use of surgical masks, or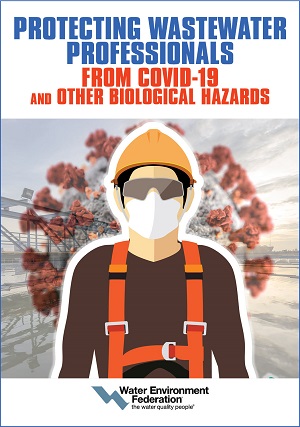 While the occupational risk of infection is low, additional research is recommended to increase understanding of hazards and protections for personnel. Source: WEFtheir equivalent, and goggles may help to minimize contact.
The panel also found that because of direct high exposure to untreated wastewater, collections system workers have greater risks of infection from pathogens. Personnel engaged in biosolids handling, laboratory analytics, septic haulers, landfill leachate handlers, industrial pretreatment personnel and those handling ambient water quality sampling all have potential exposure. But risks of coronavirus are considered low because the virus has not yet been detected in wastewater in its infectious form.
The assessment resulted in updates to the WEF Manual of Practice, Safety, Health and Security in Wastewater Systems, specifically to the chapter that discusses types of hazards associated with exposure to fungi, bacteria, parasites and other biological agents, how to prevent and treat infections, and which workers are at risk.
Ongoing research should include epidemiological studies of the incidence of infectious diseases among wastewater workers, with further analyses of PPE use and effectiveness. Studies are needed to evaluate respiratory exposure for tasks performed by workers in wastewater collection and treatment. This is particularly relevant to aerosolization of wastewater whereby exposure to potentially infectious agents via aerosols may be possible. However, much remains unknown about the role aerosols have in infectious virus transmission, specifically coronavirus.