Desalination device uses solar heat to create drinking water from wastewater and seawater
Siobhan Treacy | July 22, 2020
Researchers from the Korea Institute of Science and Technology (KIST) used solar heat to create efficient membrane distillation technology that can produce drinking water from seawater and wastewater.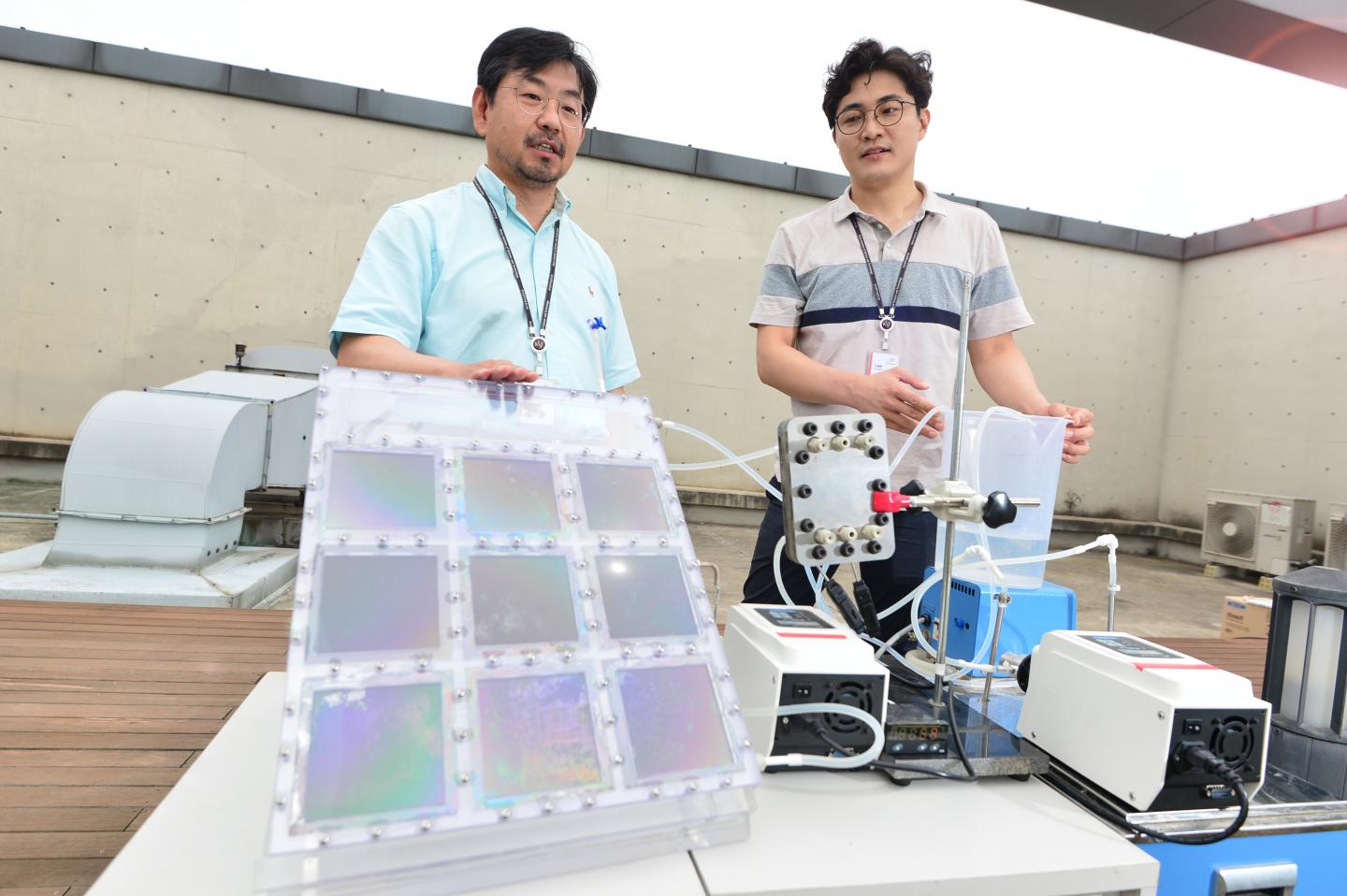 Through solar absorbers (9 panels, 5cm by 5cm in size), the team of Kyung-guen song are discussing the process of producing water at high efficiency with membrane distillation technology. Source: Korea Institue of Science and Technology
With membrane desalination technology, water is evaporated from seawater with thermal energy and passed through a hydrophobic membrane that separates water vapor from seawater. The water vapor is then condensed into drinking water. This process can be performed at low temperature and requires less energy, making it an eco-friendly way to create drinking water.
Solar driven membrane distillation technology uses renewable energy, in this case solar heat, as the heat source. A solar absorber is used to gather solar light and heat water. Previous solar absorbers have low solar absorption performance and can only be used in certain areas with proper solar radiation conditions. They also need to be large in order to properly absorb the necessary amount of solar radiation. The new device overcomes these issues.
The team's solar absorber is made of thin layers of titanium and magnesium fluoride. It was fabricated using an electro-beam evaporator.
The new solar absorber can increase water production and absorbs over 85% of solar energy with a wavelength of .3 to 2.5 μm. It can heat water to temperatures to more than 80 degrees Celsius. When applied to the solar-driven membrane distillation, it produced 4.78 L/m2 of potable water over 10 hours on a clear day in September. This high level of performance and production volume of over double the previous commercialized solar absorbers.
The new technology would be helpful to bring fresh drinking water to underdeveloped countries, remote areas and more.
A paper on this technology was published in Desalination.