Wearable medical sensors drawn with pencil and paper
S. Himmelstein | July 20, 2020
The manufacture of bioelectronics designed to adhere to skin typically requires the use of expensive precursor materials, costly fabrication facilities and complex fabrication processes. Researchers at the University of Missouri put pencil to paper, literally, to expand the accessibility of wearable health monitors. A variety of medical sensors drawn on paper with a common graphite pencil can be applied to skin in a do-it-yourself approach to device design.
Pencils with a graphite content of 90% or more conduct enough electricity for common biomedical sensing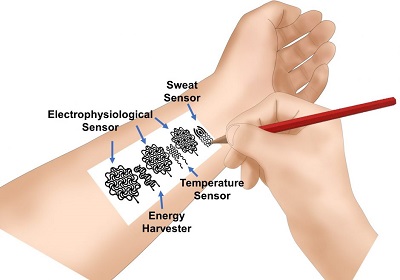 Pencils and paper could be used to design wearable devices that monitor personal health. Source: University of Missouriapplications. Pencil-drawn graphite patterns function as conductive traces and sensing electrodes, and office-copy papers serve as flexible supporting substrates. The method was used to produce disposable devices that perform real-time and continuous monitoring of a range of parameters, including skin temperatures, electrocardiograms, heart rates and glucose. A transdermal drug-delivery device and an electric harvester that uses humidity to generate power were also prepared with pencil.
The low-cost technology was also used to produce pencil-paper-based antennas, 2D and 3D circuits with light-emitting diodes and batteries, and biodegradable electronics. This use of widely accessible paper and pencil is expected to provide home healthcare, educational and remote research benefits, particularly during the COVID-19 pandemic.