NASA selects four small businesses for its Artemis moon mission
Peter Brown | July 10, 2020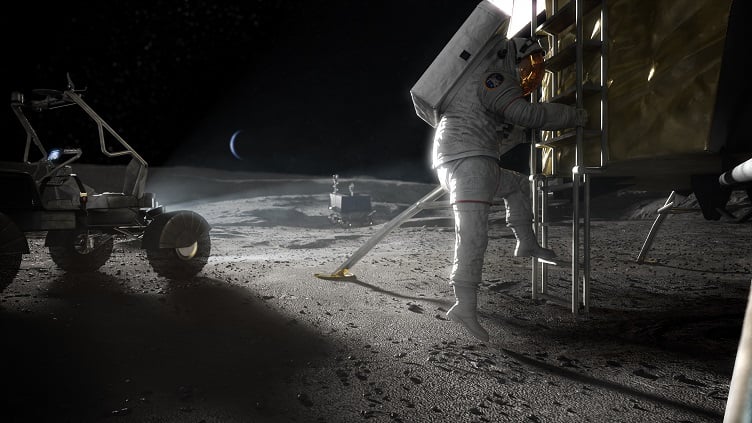 An artist's rendition of what the possible lunar exploration might look like in 2024. Source: NASA
NASA has selected four small businesses in the U.S. to help with sustainable exploration of the moon under its Artemis program.
Artemis is the program that will bring the U.S. back to the moon in 2024 and will also include the first woman to land on the moon. With funding around $17 million, the program's goal is to accelerate the development of lunar technologies relevant to Artemis.
The companies selected include:
Fibertek — A company developing optical communication technologies for small spacecraft around the moon and beyond. The system could be used to establish high bandwidth communications in the moon's vicinity to relay data from lunar landers to the Earth.
Qualtech Systems — A maker of autonomous systems that continuously monitors and provides fault and health management for spacecraft such as the Lunar Gateway, a future outpost orbiting the moon. Other applications include space vehicles, surface systems, habitats and rovers.
Protoinnovations — A company developing traction control and improving the driving ability of robotic and crewed rovers in unknown and highly variable terrain on the moon.
Pioneer Astronautics – A company that will build hardware to produce oxygen and steel from lunar soil. The technology would support sustainable lunar operations such as manufacturing using resources already on the moon.
"Small businesses are integral to the development of space technology. With this new lunar sequential funding opportunity, they will advance in-situ resource utilization, laser communications, and other high-impact technologies for use on the Moon," said Jim Reuter, associate administrator for NASA's Space Technology Mission Directorate in Washington.
The awards are part of NASA's SBIR program in post-Phase II funding initiatives designed to support small businesses past the standard Phase 1 and Phase II funding.
The SBIR/STTR program's Phase I established scientific, technical and commercial merit with Phase II focusing on development, demonstration and delivery of the innovation from Phase I. Post-Phase II supports the transition of technologies and promotes both infusions into NASA programs and commercialization of the technologies. Phase II is the commercialization of the technologies, products and services for later deployment under the Artemis program.