New hybrid buoy designed for communication, oil and gas applications
Engineering360 News Desk | June 29, 2020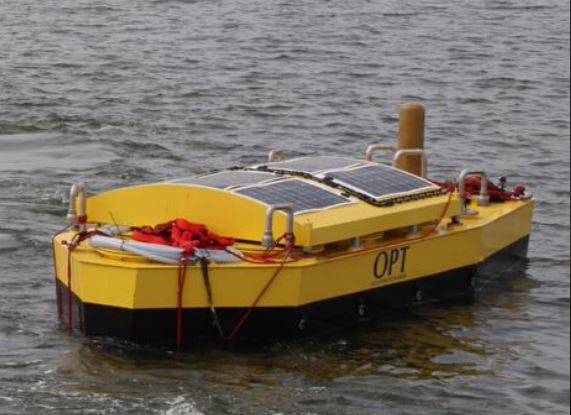 Source: Ocean Power TechnologiesOcean energy technology developer Ocean Power Technologies has developed a new hybrid buoy called the PowerBuoy.
The PowerBuoy is reportedly easily deployable, and an economical source of renewable offshore power and communications suitable for any ocean environment. Applications for the PowerBuoy include monitoring, surveillance, subsea charging, connectivity and emergency service power for offshore industries including oil and gas, science and research, and communications.
The hybrid PowerBuoy stores power for topside and subsea payloads in onboard lithium iron phosphate batteries, charged via solar panel array. An efficient, clean burning, silent 1 kW Stirling engine serves as a backup source of charging power, fueled by propane or biofuel (Generation 2) in commercially available 100-gallon tanks. This combination makes the hybrid PowerBuoy a low- to zero-carbon power solution.
With the addition of an optional communications module, a mast is added to the topside of the hybrid PowerBuoy. This structure can accommodate cameras, radar and other topside equipment along with Wi-Fi, 4G/5G or satellite data communications hardware.
Ocean Power Technology's customized, proprietary control system uses sensors and an onboard computer to continuously monitor and collect hybrid PowerBuoy and payload state data.
The streamlined hull design, compact size and single-point mooring of the hybrid PowerBuoy can facilitate cost-effective rapid deployment and installation anywhere in the world and in very broad sea states.
With energy generated independent of wave activity, the PowerBuoy can deliver power in extreme weather, heavy seas or low wave environments. In seasonal low sea states, the hybrid PowerBuoy complements OPT's PB3 PowerBuoy wave energy converter.