Astrobotic to fly NASA's water-hunting rover to the moon
Peter Brown | June 12, 2020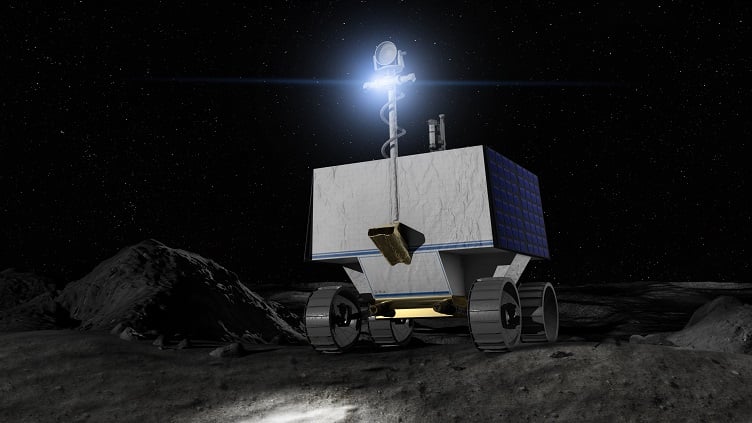 An artist's rendering of the VIPER moon lander that will be sent to the Moon by Astrobotic in 2023. Source: NASA
NASA has chosen aerospace manufacturer Astrobotic to deliver its Volatiles Investigating Polar Exploration Rover (VIPER) spacecraft to the moon.
The VIPER robot is a water-seeking rover that will help to pave the way for future moon missions beginning with its landing in late 2023 and will also help NASA to develop a sustainable, long-term presence on the moon as part of NASA's Artemis program.
The VIPER flight is part of NASA's Commercial Lunar Payload Services (CLPS) initiative that uses aerospace partners to deliver scientific instruments and technology demonstrations to the moon. NASA awarded $199.5 million to Pittsburgh-based Astrobotic to provide end-to-end services for the delivery of VIPER including integration with the Griffin lander, launch Earth and landing on the moon.
"The VIPER rover and the commercial partnership that will deliver it to the Moon are a prime example of how the scientific community and U.S. industry are making NASA's lunar exploration vision a reality," said NASA administrator Jim Bridenstine. "Commercial partners are changing the landscape of space exploration, and VIPER is going to be a big boost to our efforts to send the first woman and next man to the lunar surface in 2024 through the Artemis program."
VIPER will perform a 100 day mission and roam several miles on the moon using four science instruments to sample moon soil. Three water hunting instruments will fly to the moon on earlier CLPS lander deliveries in 2021 and 2022 prior to VIPER's mission. VIPER will also have a drill to bore about 3 ft into the lunar surface.
The goal is for VIPER to find global water sources on the moon by gathering scientific data to help determine locations where water and other resources can be harvested to sustain humans during extended expeditions on the lunar surface.
Astrobotic is slated to make its first delivery of other instruments to the lunar surface next year and a planned series of deliveries is expected as well in 2021 under the CLPS initiative.