Researchers develop anti-viral nano-coating to prevent surface transmissions of COVID-19
Marie Donlon | May 14, 2020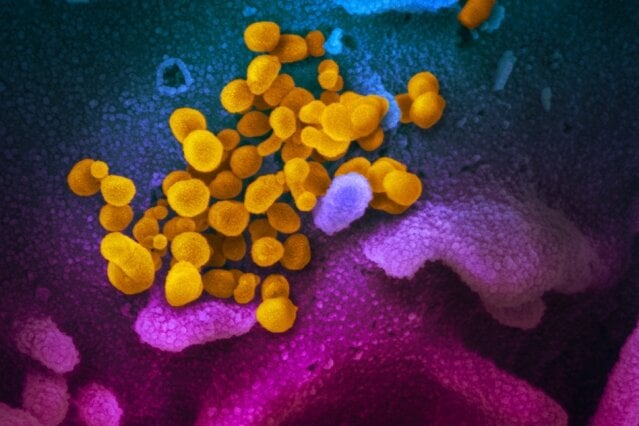 This scanning electron microscope image shows SARS-CoV-2 (yellow) — also known as 2019-nCoV, the virus that causes COVID-19 — isolated from a patient, emerging from the surface of cells (blue/pink) cultured in the lab. Source: NIAID-RMLA team from Ben-Gurion University of the Negev (BGU) in Israel is developing anti-viral nanoparticle coatings that could potentially prevent surface transmissions of SARS-CoV-2, also known as 2019-nCoV, the virus that causes COVID-19, which can live on some surfaces for prolonged periods.
The nanocoating is composed of nanoparticles of metal ions and polymers mixed with anti-viral and anti-microbial properties. The nanoparticles reportedly offer a slow release of the metal ions and their anti-viral properties onto treated surfaces. The controlled release of the metal ions means that the nanocoating can be effective for extended periods — for weeks and even months at a time.
According to its developers, the film can be either painted or sprayed onto surfaces in high risk settings such as those in hospitals, healthcare facilities, schools, airports and mass transportation.
In addition to being safe for human contact, the coating is also effective against other viruses and bacteria.