Weighing the accuracy of global irrigation projections to 2050
S. Himmelstein | May 11, 2020
The accuracy of available irrigation forecasting models used to define future policies on water and food security as well as environmental sustainability has been called into question by researchers from Princeton University,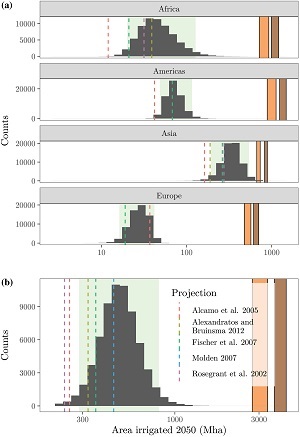 Uncertainty in available model projections of irrigated areas to 2050. (a) Uncertainty at the continental level. (b) Uncertainty at the global level. Source: A. Puy et al.University of Reading (U.K.) and University of Bergen (Norway). The amount of farmland requiring irrigation during the next 30 years is currently predicted to encompass 590 million to 1.1 billion acres, a range that likely underestimates population growth and uncertainties surrounding crop yield, land availability and water supply.
A more robust modeling scheme that incorporates the effects of these uncertainties points to an increase in global irrigated land area to as high as 4.4 billion acres. Irrigation is currently responsible for about 70% of freshwater withdrawals worldwide, and a substantial expansion of irrigated area may entail extending agricultural land toward new ecosystems or non-cultivated areas. Such activity may result in an attendant loss of biodiversity and reduced water supply for other sectors.
An increase in irrigated area of this magnitude also has implications for climate change stemming from altered surface temperatures and changes in water vaporization trends. These variables impact cloud formation and the amount of solar radiation that is either contained within the atmosphere or reflected back into space.
The research conducted to improve the accuracy of global irrigated area prediction is published in Geophysical Research Letters.