Watch: First unified geologic map of the moon is released
S. Himmelstein | April 24, 2020
The first comprehensive geologic map of Earth's moon has been prepared by the U.S. Geological Survey (USGS) in collaboration with NASA and Lunar Planetary Institute astronomers.
The decades-long map preparation process builds on the original digital renovation of the six Apollo-era 1:5,000,000-scale lunar geologic maps, which were paper-based and had to be digitally renovated and reconciled to newer datasets. including the Lunar Reconnaissance Orbiter Camera Wide Angle Camera mosaic and the Lunar Orbiter Laser Altimeter digital terrain model. The final map, presented in both GIS and PDF formats, consists of 43 geologic units across the entire lunar surface, broken down into groups based on attributes and include materials of craters, basins, terra, plains, Imbrium Formation, Orientale Formation and volcanic units.
The new map can serve as a blueprint of the surface for the next human mission to the Moon, and as a useful resource for the international scientific community, educators and the general public interested in lunar geology.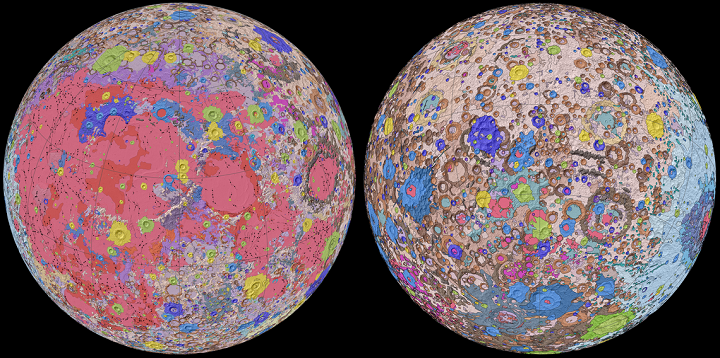 Orthographic projections of the unified geologic map of the moon showing the geology of the Moon's near side (left) and far side (right) with shaded topography from the Lunar Orbiter Laser Altimeter. Source: NASA//USGS