NASA to deliver nine instruments to the moon as foundation for future missions
Peter Brown | April 10, 2020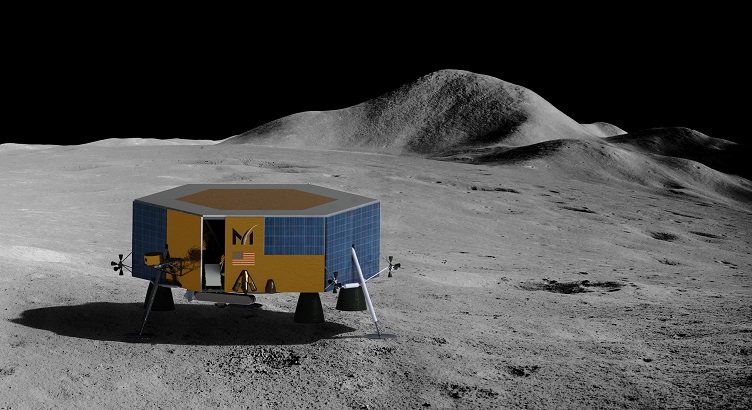 An artist's rendering of the Masten Lunar Lander that will carry scientific instruments to the Moon. Source: NASA
NASA will deliver and operate eight payloads to the Moon's South Pole in 2022 to help begin a foundation for human expeditions to the lunar surface beginning in 2024.
Masten Space Systems will deliver the payloads, which will include nine science and technology instruments. The payloads will be delivered under NASA's Commercial Lunar Payload Services (CLPS) initiative as part of the agency's Artemis program.
"Under our Artemis program, we are going to the Moon with all of America," said Jim Bridenstine, administrator of NASA. "Commercial industry is critical to making our vision for lunar exploration a reality. The science and technology we are sending to the lunar surface ahead of our crewed missions will help us understand the lunar environment better than we ever have before."
Masten was awarded $75.9 million for the delivery of the instruments including payload integration, launch from Earth, landing on the moon's surface and operation for at least 12 days. The payloads will be landed on the moon with Masten's XL-1 lander.
The nine instruments that are to be delivered include:
The Lunar Company Infrared Imaging System (L-CIRiS), which will deploy a radiometer to explore the moon's surface composition, map surface temperatures and demonstrate the feasibility of future lunar resource utilization activities.
The Linear Energy Transfer Spectrometer (LETS), which is a sensor that measures radiation environment on the moon's surface.
The Heimdall, which is a flexible camera system with four cameras and a video recorder for conducting lunar science on commercial vehicles.
The MoonRanger, which is a small robot that will demonstrate communications and mapping technologies with autonomous navigation to move across long distances of the lunar surface. The MoonRanger will carry the Neutron Spectrometer System that will measure the concentration of hydrogen in the moon's regolith.
The Mass Spectrometer Observing Lunar Operations (MSolo), which is a device to measure potentially accessible resources on the Moon's surface
The Near-Infrared Volatile Spectrometer System (NIRVSS), which is a tool to measure surface composition and temperature.
The Laser Retroreflector Array (LRA), which includes eight small mirrors to measure distance and support landing accuracy.
The Sample Acquisition, Morphology Filtering, and Probing of Lunar Regolith (SAMPLR), which is a robotic arm for collecting samples of lunar regolith and uses a robotic scoop to filter and isolate particles of different sizes.
Under the Artemis program, early deliveries of payloads to the lunar surface will allow NASA to perform science experiments and to test technologies prior to the return of human missions.