Early lung cancer detection with noninvasive nanosensors
S. Himmelstein | April 02, 2020
The use of computed tomography (CT) is widely used to diagnose lung cancer but the technology is limited: the screening method returns many false positives by zoning in on benign growths as cancerous. A more accurate early diagnostic method based on urinalysis by nanosensors is being advanced by researchers from MIT, Harvard University, Memorial Sloan Kettering Cancer Center (New York), Howard Hughes Medical Institute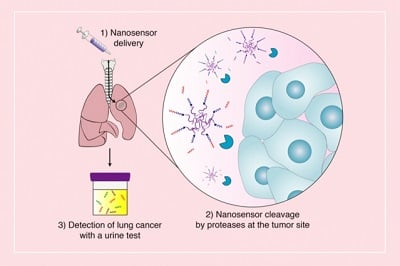 Nanoparticles can be delivered to the lungs, where tumor-associated proteases cut peptides on the surface of the particles, releasing reporter molecules. Those reporters can be detected by a urine test. Source: MIT(Massachusetts) and Brigham and Women's Hospital (Massachusetts).
The peptide-coated nanosensors, which can be inhaled or injected, interact with proteases, enzymes which enable cancer cells to travel through the body and metastasize. As the engineered nanoparticles accumulate at a tumor site, the peptides are degraded by protease in a mechanism that releases biomarkers detectable in a urine sample.
The assay previously developed to detect colon and ovarian cancers was revised to target lung cancer. Proteases common in lung cancer cases were identified, and 14 peptide-coated nanoparticles with an affinity for these enzymes were selected. Tests were conducted by airway injection into mouse models with lung cancer and analysis of relevant biomarkers at 5, 7.5 and 10.5 weeks after the tumor initiation.
The nanosensor assay revealed the presence of tumors as early as five weeks in one strain of mice, and accurately detected tumors as small as 2.8 cubic mm on average at 7.5 weeks in another. According to the team, this accuracy is comparable or better than that of CT scans performed at the same points in time. Accuracy was comparable to or superior to the success rate of CT scans, and the nano-test was also demonstrated to distinguish between early-stage cancer and noncancerous inflammation of the lungs, a major factor in generating false positives.
In addition to use as a noninvasive diagnostic alternative to biopsies, the sensors might also be used to monitor how well lung tumors respond to drug or immunotherapy treatments.