Biohybrid reactor yields organic feedstocks for use on Mars or Earth
S. Himmelstein | April 01, 2020
A new biohybrid reactor system may offer a sustainable means of producing fuel, pharmaceuticals and other materials in future Martian colonies as well as on Earth. Bacteria are combined with nanowires in the system developed by researchers from the University of California Berkeley and Lawrence Berkeley National Laboratory to collect and convert carbon dioxide from the Martian atmosphere into building blocks for organic compounds.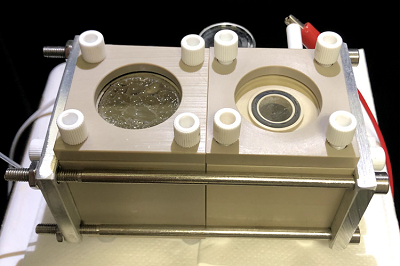 On left is the chamber containing the nanowire/bacteria hybrid that reduces CO2 to form acetate. On the right is the chamber where oxygen is produced. Source: Peidong Yang, University of California Berkeley
CO2-reducing microorganisms are directly interfaced with cathodic material to effect microbial electro- and photo-electrochemical CO2 fixation. Silicon semiconductor nanowires harness solar energy for use by Sporomusa ovata, the bacteria often tested as a biological catalyst for artificial leaf systems. The wires transfer electrons directly to the bacteria to spur the chemical reaction and convert sunlight, water and CO2 into oxygen and organic chemicals.
A prototype system achieved a CO2-reducing current density of ∼0.65 mA/cm2. When coupled with an external photovoltaic device, the bioreactor supported solar-to-acetate production with a 3.6% efficiency over 7 days. The acetate can be consumed for the production of drugs, fuels and other products.
The researchers are also developing biohybrid systems to produce sugars and carbohydrates as feedstocks for food production on Mars. The technology could also be deployed to remove atmospheric CO2 and manufacture organic compounds as a way of combating climate change on Earth.