DARPA funding device to regrow muscle in injured soldiers
Marie Donlon | March 30, 2020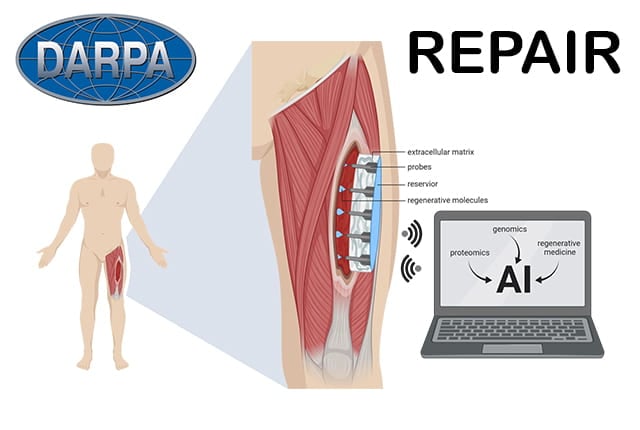 Source: DARPAThe Defense Advanced Research Projects Agency (DARPA), the research arm of the U.S. Department of Defense, is funding the development of a device to induce muscle regrowth in the wounds of soldiers.
The multi-partner project, led by researchers from the University of Pittsburgh School of Medicine, will support researchers in the development of a smart device called the Regenerative Electronic Patch through Advanced Intelligent Regulation (REPAIR), which combines regenerative medicine, artificial intelligence (AI) and bioelectronics.
According to researchers, the smart REPAIR device will be designed to treat large wounds — those destroying more than 20% of muscle — incurred by soldiers on the battlefield. To do this, the researchers intend to mimic the healing that occurs in smaller wounds where self-healing is typically achieved by alternating states of inflammation and anti-inflammation following an injury. As such, the researchers hope to encourage larger wounds to the anti-inflammation mode in the first three or four days following injury and then repeatedly until muscle rebuilds itself.
Once the REPAIR smart technology is completed, researchers would implant it inside of a wound to monitor molecular signals during wound healing and target molecules at established frequencies, guided by artificial intelligence (AI).
The device would, according to researchers, enable soldiers in the field to potentially treat wounds that damage more than 20% of muscle, which are difficult to treat, making muscle regeneration nearly impossible.
Researchers from Carnegie Mellon University, Northwestern University, the University of Vermont, the University of Wisconsin, the Walter Reed National Military Medical Center in Maryland as well as neuro-engineers and bio-engineers at Rice University in Texas are assisting with the research.