Video: A nexus observed between air pollution and the coronavirus
S. Himmelstein | March 18, 2020
A European NGO has warned that people living in cities or regions with high levels of air pollution are at greater risk from the coronavirus.
The European Public Health Alliance says that air pollution causes diabetes, hypertension and respiratory diseases, underlying health conditions that make coronavirus more deadly. North Italy and regions of China are hotspots of air pollution and of the coronavirus outbreak.
However, a sharp drop in pollution levels in both areas has been evident in recent satellite images for both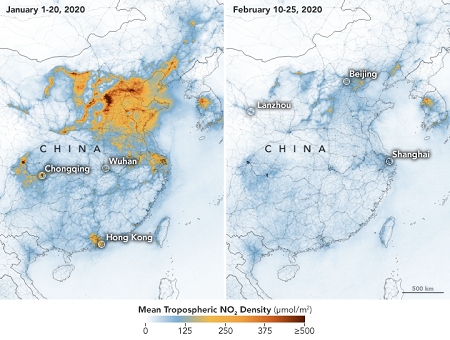 Satellite data show a decline in tropospheric nitrogen dioxide levels over China from January 1 to February 25, 2020. Source: NASAcountries. Policies that have restricted population mobility and commercial activity have resulted in fewer people driving and reduced fossil fuel consumption as power plants and industry have ramped down operations. The unexpected consequence has been an improvement in urban air quality as evidenced by lower nitrogen dioxide and particulate levels recorded by NASA and European Space Agency (ESA) pollution monitoring satellites.
The ESA compiled data on NO2 emissions across Europe between January 1 and March 11, using a 10-day moving average. Trends illustrate a drop in concentrations over Italy, with the northern region, where the lockdown was first implemented, displaying the most pronounced decline.
NASA satellite data was compiled into maps demonstrating concentrations of NO2 across China between January 1 and February 10, covering periods before and during the quarantine. A significant decline in NO2 concentrations is evident and attributed in part to implementation of quarantine policies. Improvements in air pollution typically occur this time of year due to business closures for Lunar New Year celebrations, but the 2020 levels recorded were far lower than those typically measured.