Oil recovery improves with an understanding of brine salinity influence
S. Himmelstein | March 09, 2020
Mixing oil and water may be key to increasing oil recovery from carbonate reservoirs. Rice University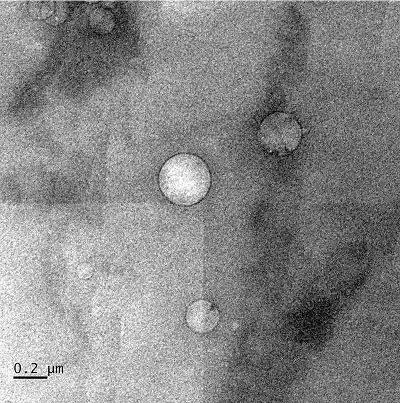 Low-salinity brine injected into crude oil forms nanoscale droplets that help separate oil from reservoir rock. The black ring around the droplets is asphaltene. Source: Wenhua Guo/Rice Universityresearchers have determined that oil well productivity is enhanced when water with the right salt concentration is matched to both the oil and the host rock formation.
The researchers evaluated the dispersal of injected brine and its effects on interfacial tension and electrostatic interactions of oil with rock. Tests were conducted with six different crude oils, a high-salinity brine and one with a quarter of the salinity of seawater. The high-salinity brine inhibited water droplets from emulsifying in crude oil, but the low-salinity brine was observed to generate emulsion droplets.
This process alters the wettability of the rock, which governs how easily oil is released. An increase in the water content in crude oil after contact with low-salinity water leads to higher desorption of indigenous oil surfactants from the mineral surface, leading to wettability alteration and higher incremental oil recovery.
The oil interfacial tension in low-salinity water is found to greatly influence the low-salinity–induced wettability alteration process. Oils with higher interfacial activity responded more positively to low-salinity water.
The study published in Scientific Reports indicates that salt concentration can be controlled to modify brine composition and increase the efficiency of oil release from reservoirs without the use of chemical surfactants.