Pill-sized device heats up point-of-care diagnostics
S. Himmelstein | February 25, 2020
Infectious disease detection is often undermined in remote and resource-limited areas as diagnostic assays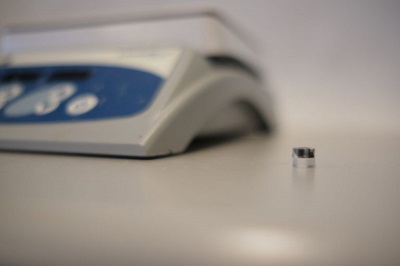 The miniature heater sits to the right of a typical plate heater used in the laboratory. Source: Qin Dai/University of Torontorequire access to expensive lab equipment. Incubators and other electrically heated instruments are needed to heat reagents and biological samples to specific temperatures. A miniaturized chemical heater devised at the University of Toronto can offer a low-cost, field-portable solution for such diagnostic testing.
The pill-sized heater tablet encases lithium in a non-reactive acrylic layer assembled to generate heat exothermically. The lithium releases heat and hydrogen gas when dissolved in water in a process controlled by the star shape of the 8 mm diameter tablet. The point-of-care device requires no electricity or clinical expertise for its application and was demonstrated to provide precise and tunable heating from 37° C to 65° C with ramp-up times of a minute.
The researchers envision using the portable diagnostic tool with a smartphone for monitoring and detecting infections.