Gas production set for 30-year growth trend, EIA says
David Wagman | February 19, 2020
Natural gas process plant. Credit: McDermott
Total dry natural gas production in the United States is expected to grow until mid-century, due largely to meet growing export demand to satisfy global markets.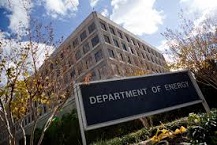 According to forecasts released by the Energy Department's Energy Information Administration (EIA), the U.S. began exporting more natural gas than it imports on an annual basis in 2017. That shift was driven by increased liquefied natural gas (LNG) exports, increased pipeline exports to Mexico and reduced imports from Canada.
EIA projected in September that world energy consumption would grow by nearly 50% between 2018 and 2050. It said most of that growth would come from countries that are not in the Organization for Economic Cooperation and Development, and would be focused in regions where strong economic growth is driving demand, particularly Asia.
EIA said it expects dry natural gas production to total 34 trillion cubic feet (Tcf) in 2019 once final data are in. It projects that production will hit 45 Tcf by 2050, largely due to continued development of tight and shale resources in the East, Gulf Coast and Southwest regions.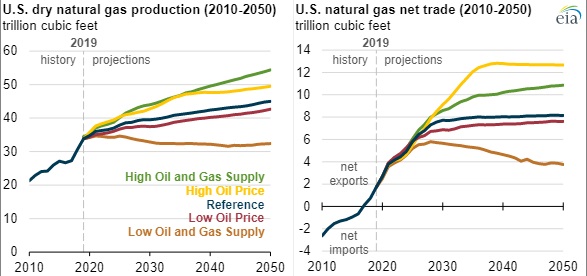 Source: EIAProduction gains in those three regions are expected to more than offset declines in other regions. Dry natural gas production from the three accounted for 68% of total U.S. dry natural gas production in 2019. They are forecast to account for 78% in 2050.
EIA said that most of the production growth will come from natural gas formations such as the Marcellus and Utica in the East region and the Haynesville in the Gulf Coast region. A smaller portion is forecast to come from production in oil formations (also known as associated gas), especially in the Permian Basin in the Southwest region.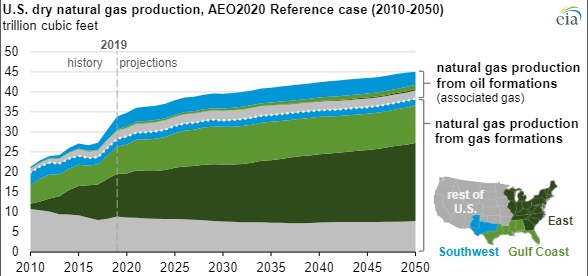 Source: EIAEIA said it expects that exports by pipeline and LNG exports will continue to grow through 2030. LNG exports account for most of the export growth as more LNG export facilities become operational and additional capacity starts construction.
EIA said it projects that LNG exports will almost triple, from 1.7 Tcf in 2019 to 5.8 Tcf in 2030, equal to nearly 16 billion cubic feet per day (Bcf/d). LNG exports are expected to remain at this level through 2050 as U.S.-sourced LNG becomes less competitive in world markets and as more countries become global LNG suppliers.
In late November, the Federal Energy Regulatory Commission approved four LNG export projects and related facilities. Three projects would be located along the Brownsville Ship Channel in Brownsville, Texas. A fourth would expand a currently operating facility near Corpus Christi, Texas.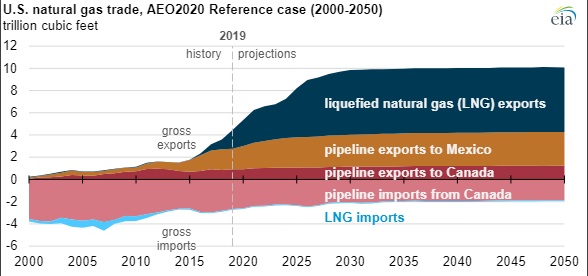 Source: EIAWith the federal approval in hand, project developers now must decide whether or not to move ahead with construction. Recent reports suggest that headwinds may slow LNG development work in the near term.
Consulting firm Deloitte said that decades of low prices in end-user markets and difficulty faced by developers in signing long-term off-take contracts pose challenges to new LNG projects.
And S&P Global Platts Analytics said that outlook is in line with its expectation that U.S. liquefaction capacity growth will slow after 2021, reflecting what it called "the uncertainty over when many of the projects that are to make up the second wave of American terminals" will break ground, if at all.
U.S. LNG exports are more competitive when oil prices are high and U.S. natural gas prices are low. EIA said this is because of pricing structures that link Brent crude oil prices to LNG prices in many world markets.