Watch: First images of the sun from new solar telescope
S. Himmelstein | January 31, 2020
The Daniel K. Inouye Solar Telescope, the world's largest solar telescope, captured its first image of the Sun, providing the highest-resolution image of the star to date. The turbulent plasma seen on the Sun's surface is composed of Texas-sized, cell-like structures termed granules. The roiling plasma transports heat from the Sun's interior to the surface of granules and sinks as it cools in a convection process that may hold the key to understanding solar magnetic storms and winds.
Magnetic eruptions on the Sun can impact air travel, disrupt satellite communications and affect power grid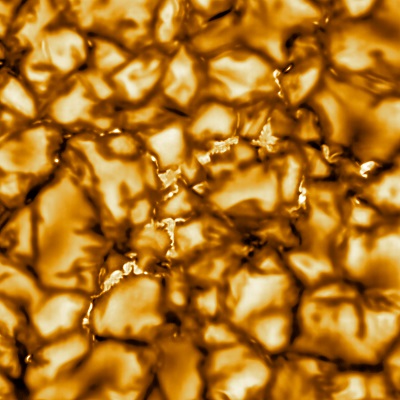 The Daniel K. Inouye Solar Telescope has produced the highest resolution image of the Sun's surface ever taken. Source: National Solar Observatory/Association of Universities for Research in Astronomy/National Science Foundation reliability. An improved understanding of the Sun's effects on space weather and implications for Earth could lead to earlier warnings of extreme solar activity — currently a 48 minute window — and help governments and utilities prepare for potential impacts.
The National Science Foundation facility sited on the summit of Mt. Haleakala in Hawaii has been under construction since 2012 and features a 4 m mirror, the biggest ever used on a solar telescope. Its curved shape and other optical elements focus 13 kW of solar power. The heat created is addressed with a liquid-cooled metal donut protecting the main mirror, cooling plates covering the structure's dome and coolant delivered throughout the observatory through seven miles of piping.
The new images were captured with a visible broadband imager, which takes extremely high-resolution images of the solar surface and lower atmosphere. A second instrument, the visible spectro-polarimeter, is now operational and splits light into its component colors to provide precise measurements of its characteristics along multiple wavelengths. Additional instruments are being installed with full operations planned to begin in July 2020.