A spectroscopic approach to painless glucose monitoring
S. Himmelstein | January 28, 2020
Noninvasive approaches are sought to substitute for the routine but painful finger pricks that diabetic patients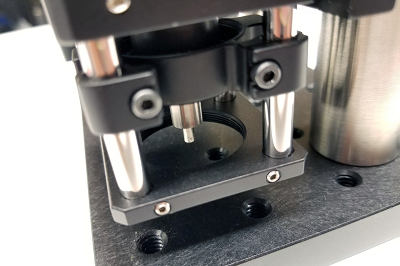 The sensor measures blood glucose levels noninvasively by shining near-infrared light through skin and measuring the chemical composition of the tissue below. Source: Jeon Woong Kang/MITmust endure to monitor blood glucose concentrations. Now, researchers from MIT and Samsung Electronics Co., South Korea, are advancing the use of near-infrared light for this application, using Raman spectroscopy to measure glucose levels just below the skin's surface.
The method described in Science Advances entails shining near-infrared light onto skin at about a 60° angle. The resulting Raman signal is captured from a fiber perpendicular to the skin, providing accurate results as unwanted reflected signals from the skin surface are filtered out.
When tested with porcine models, the technique produced accurate glucose readings for up to an hour after 10 to 15 minutes of calibration. Signal accuracy was confirmed by comparing the data to measurements made from blood samples taken from the same animals.
The team plans to shrink the size of the direct transdermal testing system to improve its portability and eventually design wearable monitors for continuous and noninvasive glucose measurement.