Team develops antimicrobial composite film to prevent foodborne illness
Marie Donlon | January 23, 2020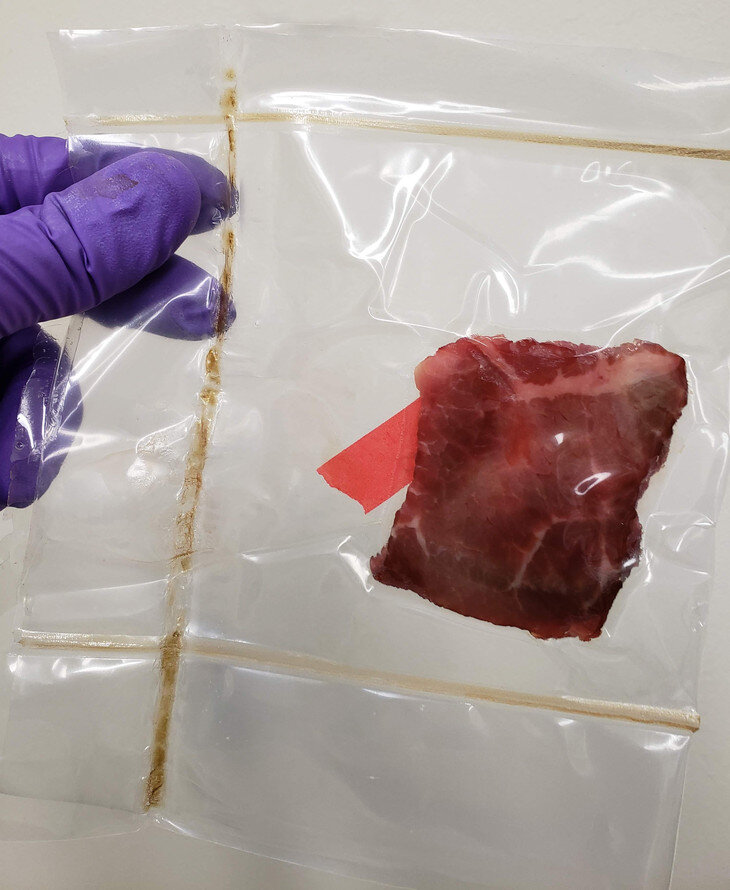 Raw beef, raw chicken breast and packaged turkey breast were introduced to pathogens then vacuum packaged with the antimicrobial film, sealed and placed into refrigerated storage. The composite antimicrobial film significantly reduced foodborne pathogens on the foods. Source: Penn StateResearchers at Penn State's College of Agricultural Sciences have developed a composite film to decrease the occurrence of foodborne illness outbreaks.
To accomplish this, the team fused an antimicrobial lining composed of pullalan — a polysaccharide made up of linked sugar, glycerin and cellulose molecules — injected with Lauric arginate — an antimicrobial that reportedly limits the growth of pathogens linked to the development of foodborne illnesses — to the inside layer of standard polyethylene plastic film often used in vacuum packaged foods.
During testing, the researchers introduced Shiga toxin-producing E. coli, Salmonella spp., Listeria monocytogenes and Staphylococcus aureus to the surfaces of raw beef, raw chicken breast and prepared turkey breast. The exposed meats were then vacuum sealed in the packaging containing the antimicrobial lining and stored in a refrigerator for 28 days.
Once the packaged meat was removed from refrigerated storage, researchers determined that the antimicrobial film reduced the development of foodborne pathogens. The combination of pullalan and Lauric arginate reportedly offered the slow and consistent disbursement of bacteria-killing antimicrobials over time. Researchers credited the Lauric aginate with preventing the growth of the four different bacteria types.
Although still in the early stages of development, the team plans to investigate the antimicrobial film's impact on the shelf life of food.
The composite film joins a host of recent attempts to ensure food packaging protects against foodborne illnesses, of which there have been an estimated 76 million cases reported each year in the U.S. alone, according to the U.S. Centers for Disease Control and Prevention.
A recent example of packaging designed to prevent foodborne illness happened at the nano-level. A European coalition developed nanotechnology-based food packaging film that reportedly extends the shelf life of perishable foods while preventing food waste and protecting against foodborne illnesses.
The research detailing the antimicrobial film from Penn State appears in the International Journal of Food Microbiology.