Red blood cells recruited for targeted drug delivery
S. Himmelstein | January 22, 2020
An effective approach for targeted drug delivery is being pioneered by researchers from McMaster University,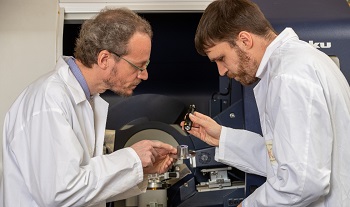 Red blood cells are modified to function as drug carriers. Source: McMaster UniversityCanada and Saarland University, Germany. Instead of relying on synthetic materials that may be rejected by the body or fail to access target sites, the method uses red blood cells as delivery agents.
The blood cells are modified to function as drug carriers by emptying the structures and filling them with medicine. The cell membranes are doped with synthetic lipid molecules to form hybrid erythrocyte liposomes capable of encapsulating therapeutic agents. A sticky surface enables the re-engineered structure to attach to bacteria, tumors or other targets as it circulates within the body, after which the pharmaceutical payload is released.
These modified cell constructs can then be injected into the body without triggering an immune response. The delivery method could also lend itself to lowering drug doses, and subsequent side effects, for the treatment of infections, cancer or Alzheimer's disease.