Omani Oil Producer to Install Solar Array to Extract Crude
Engineering360 News Desk | August 06, 2015
GlassPoint Solar Inc. is starting work on what will be one of the largest solar plants in the world, using the technology as an alternative to fossil fuels to extract crude oil from the ground.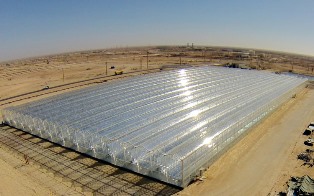 GlassPoints solar enhanced oil recovery facility at the Amal West Oilfield. Source: GlassPointBloomberg says the facility will be built at the Amal oilfield in southern Oman. It will consist of rows of parabolic mirrors covering 2 square kilometers. Those mirrors will heat steam, which will be injected into underground reservoirs to reduce the viscosity of the crude.
Petroleum Development Oman (PDO), which is 60% held by the government, is sponsoring the project. Royal Dutch Shell Plc, among the investors that assisted the company to raise $53 million in September, owns 34% of the Oman oil company and the French energy company, Total SA owns 4%.
PDO has been experimenting since 2010 with the technology at a GlassPoint pilot project on the Amal field, where it produces about 50 tons of steam. The unit produces 7 megawatts (MW) of steam for enhanced oil recovery and will continue to operate once the new ones start operating in 2017, a statement says. The new facility will heat more than 1,020 MW of steam to extract crude from the field.
GlassPoint says its technology can reduce energy needs by up to 80% at heavy oil fields where energy is needed to lift supplies from underground rock formations.
"What we are aiming to do is secure greater recovery of oil while at the same time reducing our energy consumption and costs," says Raoul Restucci, managing director of Petroleum Development Oman.
Related articles:
Reshaping the Solar Spectrum to Boost PV Efficiency
Facility Uses Sun-Heated Sand to Produce Energy