Shock treatment for nuclear plant wastewater
S. Himmelstein | December 26, 2019
A process for the economical treatment of nuclear power plant cooling water containing radioactive contaminants has been demonstrated by MIT engineers. The scalable shock electrodialysis technology selectively separates and concentrates radionuclides of interest, reducing the volume of wastewater requiring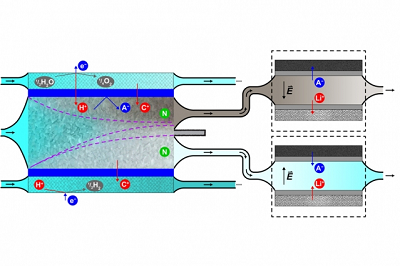 Contaminated water entering from the left is subjected to an ionic shockwave (depicted by dashed purple lines) that concentrates cesium and cobalt radionuclides on one side (darker area at top) from purified water (light-colored lower area). Clean water can be recirculated to the reactor, while concentrated contaminants can be safely disposed. Source: MITdisposal and enabling cooling water reuse.
The electrodialysis treatment is an extension of a technique previously developed for desalination application. A deionization shockwave is generated to direct electrically charged ions toward a tube filled with charged porous material for capture. Target ions can be selectively filtered out of the coolant water flow, which can amount to 10 million m3 of water annually for a large nuclear reactor.
A three-stage treatment train was demonstrated to remove 99.5% of the radioactive cobalt and cesium from simulated wastewater that also contained boric acid and lithium. A water recovery and reuse rate of 43% was documented and can be increased to 66% if the cobalt deionization rate is allowed to fall to 98.3%. Low energy consumption values of 1.76 to 4.8 kWh/m3 were also realized as only charged species were targeted and no energy was expended removing boric acid, the most abundant species in solution.