Coated sand can prepare urban stormwater for potable purposes
S. Himmelstein | December 13, 2019
Urban stormwater could represent an abundant source of potable water if heavy metal and organic chemical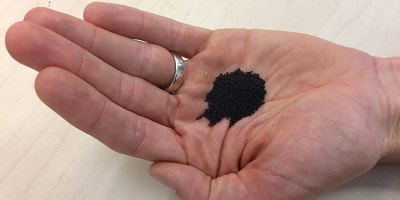 Mineral-coated sand could unlock new water supply by removing two kinds of contamination. Source: University of California Berkeleyconstituents are removed. A simple sand-based filtration media formulated by University of California Berkeley researchers has been shown to effectively capture these pollutants, leaving purified stormwater to augment municipal groundwater supplies.
Manganese oxide-coated sand was demonstrated to have a high affinity for zinc, lead and other metals in infiltration, batch and column tests. Treating the coated media with pH 3 hydrochloric acid after column tests recovered over 90% of adsorbed cadmium, copper and zinc.
The material, which also removes bisphenol A and other organic pollutants, could have a service life of a decade or more in infiltration systems designed to direct runoff into aquifers for storage and future municipal use.
The researchers have taken the coated sand out of the laboratory and have installed large test columns in Los Angeles and Sonoma, California.