Watch the flight of the first commercial electric plane
S. Himmelstein | December 11, 2019
A de Havilland DHC-2 Beaver seaplane lifted off the Fraser River in Vancouver, British Columbia, Canada, on December 10, 2019, marking what operator Harbour Air said is the first time an all-electric commercial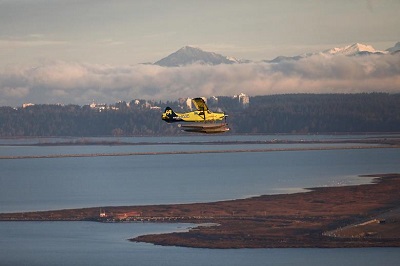 The DHC-2 Beaver completed its first flight equipped with an all-electric propulsion system. Source: Harbour Airpassenger aircraft has taken flight.
The commuter airline company partnered with propulsion technology developer Magnix to replace the six-passenger plane's Pratt & Whitney P-985 Wasp Junior piston engine with a Magnix-made 750-horsepower (560 kW) magni500 electric propulsion system. The lithium battery backed system revolves at a base speed of 1,900 rpm and has a maximum speed of 2,600 rpm.
Following the successful four-minute demonstration flight of the ePlane, the companies will now initiate the propulsion system certification and approval process, with the ultimate goal of retrofitting the rest of Harbour Air's fleet.
The battery-powered system will provide enough environmentally friendly, efficient power for 30 minute flights and 30 minutes of reserve power.