How the circular economy may save us from drowning in plastic
Amy J. Born | December 09, 2019
Plastic is something of a modern miracle. It is versatile, flexible, durable, strong, lightweight and relatively inexpensive. It comes in tens of thousands of formulations, making it a practical choice for a multitude of applications from packaging to construction materials to safety and medical equipment to household goods and more. Unfortunately, the qualities that make plastic such a popular choice for manufacturers and consumers have also led to the huge waste problem that exists today.
When it comes to plastic pollution the news has certainly been dire: plastic waste is everywhere and it is not going away anytime soon. An estimated 8 million tons of plastic winds up in the world's oceans annually. In the U.S. and Canada, 90% of plastic (more than 34 million metric tons) ends up in landfills or incinerated each year.
Virtually non-existent before World War II, plastic production, along with plastic waste, has steadily increased over the past half-century. Combating the negative effects of plastic pollution including chemical contamination of water and soil, and the lethal threat to fish, seals, sea turtles, crabs, whales, seabirds, coral reefs and other marine life will take many solutions.
What is the circular economy?
In the current linear system, manufacturers produce plastic in the form of single-use products and packaging. Eventually, that plastic makes it to consumers who dispose of it. Ideally, the plastic is recycled and replaces virgin plastic going forward, but a number of factors prevent this from happening efficiently or at all. How to recycle the many different types of plastic and other materials can be confusing and complicated, especially when packaging or products are made of more than one material. Many areas don't have the infrastructure to sort, process and market recyclables properly and profitably. Plastics that are easily recyclable or items that already contain recycled material have issues with degradation and contamination, making them unattractive to manufacturers for repurposing.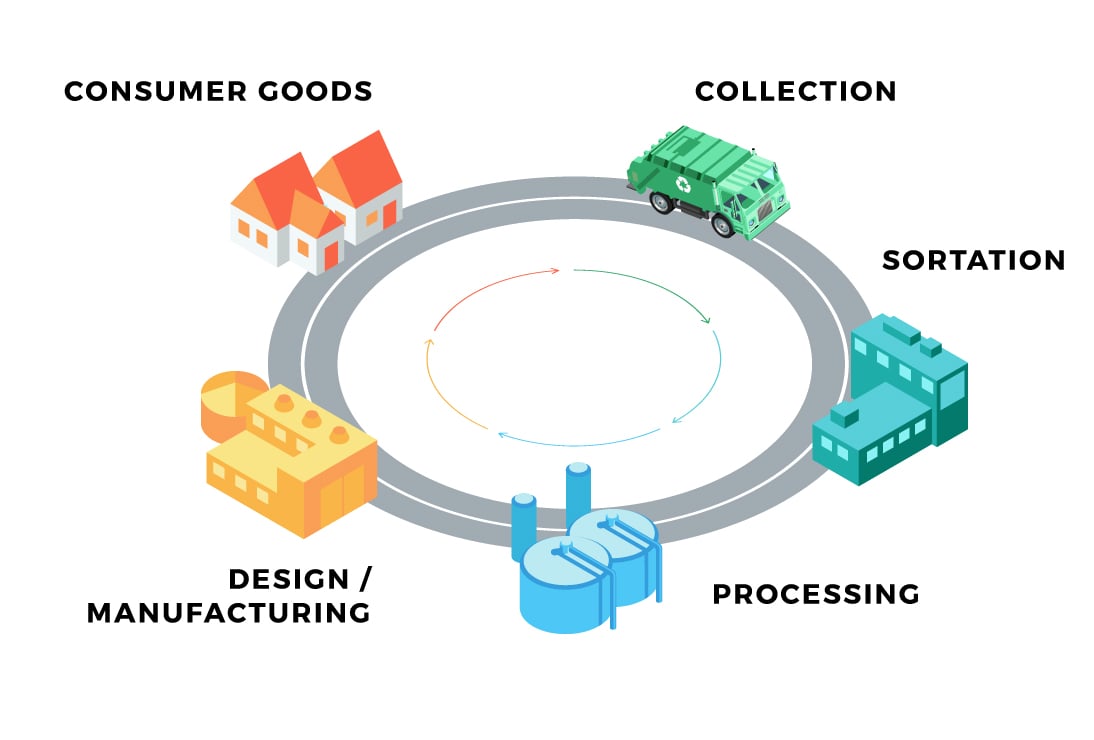 Source: Closed Loop PartnersThe circular or closed-loop economy seeks to address these issues by turning the current linear system that generates an endless amount of plastic, representing billions of dollars annually that ultimately goes into landfills, incinerators or oceans, into a closed loop that economically recovers plastic waste and returns it to the supply chain. The loop includes design/manufacturing, consumer products, collection, sorting and processing. Each step in the loop represents an opportunity for improvement in terms of creating value and mitigating the impacts of plastic and other waste.
Closing the loop
Closed Loop Partners, an investment firm focused on building the circular economy through investment, education and collaboration, recognizes the value of these discarded materials. In its report, Accelerating Circular Supply Chains for Plastics, the company values the addressable market for "outputs that have a pathway back to plastics" at $120 billion, and adds that "including other outputs, such as diesel and gasoline, jet fuels, and liquid oils, would significantly increase the market opportunity." The key players in the loop maximize that value by implementing solutions for recovery and reuse of these materials.
A significant number of brands, retailers and manufacturers, including Coca-Cola, Unilever and Walmart, have publicly committed to using recycled plastics in their packaging within the next 10 years. This will require a 200% to 300% increase in supply. In addition, the demand for chemicals and fuels would also be met through the repurposing of waste plastics. Closed Loop Partners has identified 60 technology providers developing innovative solutions to meet this demand through chemical recycling (purification, decomposition and conversion). These solutions can also help to decrease the world's reliance on fossil fuel extraction, lower landfill disposal costs and reduce marine pollution.
By investing in research, technologies and companies that support the circular economy at every stage of the supply chain, the Closed Loop Fund is helping to both create and meet the demand for recycled plastic with the ultimate goal of keeping plastic in play and out of the environment.
One business supported by the fund is Preserve, a consumer goods company that makes toothbrushes and other products out of yogurt cups (polypropylene) and tableware out of take-out containers. The company also takes back its polypropylene products (#5 plastic) after use through its Gimme5 program and works with Whole Foods Market to collect tableware made of #5 plastic and turn it into new Preserve products.
Entities involved in the collection of waste plastic include a number of municipalities, such as Memphis, Tennessee, which invested in 80,000 single-stream recycling carts to supply to households. The city's recycling rates increased by 61% in the first year.
Lakeshore Recycling Systems (LRS), Illinois' largest private waste company, does not own a landfill but rather specializes in recycling and waste diversion programs in the Chicagoland area.
PureCycle Technologies uses a patented recycling process, developed by Procter & Gamble, to separate color, odor and any other contaminants from plastic waste feedstock. What remains is transformed into resin that resembles virgin material. This process makes sustainable, recycled resin more accessible at scale.
rPlanet Earth manufactures and sells food-grade packaging. The company's branded EnviroPET sheet is made from 100% post-consumer plastic and is currently being sold to a number of grocery store chains.
Corporate responsibility
The success of the circular economy depends to a great extent on the buy-in of the largest companies at every stage. In October The Coca-Cola Company, PepsiCo and Keurig Dr Pepper announced their commitment to the Every Bottle Back initiative. Spearheaded by the American Beverage Association, the initiative represents a massive effort to ensure that the bottles they produce and distribute are recovered and made into new bottles. The announcement stated that in addition to the beverage company involvement, "The World Wildlife Fund (WWF) will provide strategic scientific advice to help measure the industry's progress in reducing its plastic footprint and The Recycling Partnership and Closed Loop Partners will assist in deploying funds for the initiative." Those funds will support infrastructure improvements in sorting, processing and collection. Another aspect is the launch of a public awareness campaign to educate consumers about the value and importance of recycling these bottles (and the caps).
Recycling has to be easy
Even with all this technology and infrastructure in place, the success of the circular economy still hinges on getting people to recycle. That means making recycling correctly easier than throwing something in the trash. How2Recycle labels, a project of the Sustainable Packaging Coalition, expands on the ubiquitous recycling triangle symbol by adding easy to see, read and understand instructions for disposing of product packaging. The labels incorporate the best available recycling data and insights from industry experts and comply with the Federal Trade Commission's Guidelines for Environmental Marketing Claims. They include clear instructions on how to prepare the item (such as "rinse and insert lid" or "empty and reattach sprayer"), locational instructions (such as "widely recycled" or "not yet recycled"), which components of the package the instructions apply to (box, wrap, tray, etc.) and the type of recyclable material (plastic, coated paper, metal, glass, etc.).
More than plastic recycling
The environmental impacts of a consumer-driven society go beyond plastic waste in landfills and waterways. For one thing, waste materials include more than plastic. Other considerations are energy and water use, pollution and greenhouse gas emissions. Reusing and reducing are as, if not more, impactful, than recycling. Closed Loop Partners and other stakeholders support companies that take on these solutions as well.
Retrievr is a service that arranges free at-home pickup of clothing and electronics, then evaluates and distributes the items for refurbishment and reuse, or for recycling.
Clothing company For Days encourages recycling by allowing customers to swap their old For Days items for deep discounts on new items. The returned items go into new fabric and eventually into new products. The company is working on a reuse program as well.
Loliware produces biodegradable straws made from seaweed. The straws are durable enough for multiple uses yet break down at the same rate as food waste in compost or in nature.
Algramo, a startup based in Chile, has embraced the reuse revolution with an innovative product delivery system that motivates customers with reusable packaging and vending machine distribution.
Read: Greenpeace challenges popular solutions for reducing plastic pollution