Chilean startup brings affordable sustainability to grocery shopping
Amy J. Born | December 08, 2019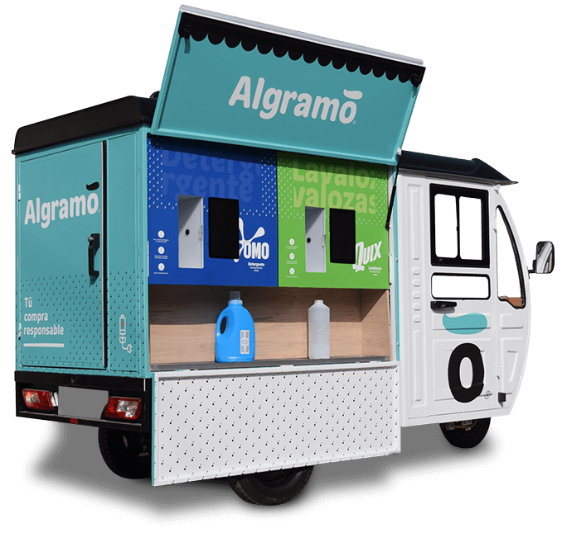 Source: Closed Loop PartnersJose "Cote" Manuel Moller founded Algramo ("by the gram") in 2012 in Santiago, Chile, to address two pressing problems. The first is that people in low-income neighborhoods can only afford to purchase consumer products in smaller sizes, rather than the more economical larger-sized packages. This, Cote determined, amounts to an effective 40% "poverty tax." The second problem is the waste created by single-use plastic, mainly from packaging.
"By creating low-cost reusable packaging and reducing the cost of distribution through our vending machines and dispenser system, we dramatically cut costs for customers and allow them to purchase small quantities of products at an affordable price," said Cote. "This benefits brands too who want to sell product, not packaging. Our system easily integrates into local bodegas, large grocery store chains, and can be delivered to a customer's home through our mobile delivery app."
Algramo encourages reuse of its smart packaging by rewarding customers with credits toward future purchases each time they refill an existing container with the appropriate product. Refills are tracked through an RFID chip on the package and each credit is the equivalent of an 11.5% discount.
Algramo operates in over 2,000 family-owned stores reaching over 325,000 end-customers in Santiago de Chile and is currently partnering with Unilever to pilot a mobile dispensing system using electric tricycles to deliver products to people's homes via an app. Other large brands have expressed interest as well.
The company is a winner of the MIT SOLVE Circular Economy challenge and is now looking to expand its operations into the U.S. and beyond.
"Reusable models like Algramo's are an important and necessary step in the reduction of single-use plastic packaging," said Danielle Joseph, executive director at Closed Loop Partners, a New York-based investment firm focused on building the circular economy. "Algramo is a leading innovator showcasing a circular solution to a global waste issue by ensuring that valuable materials are kept in play for multiple uses." Closed Loop Partners recently announced its investment in Algramo through its venture capital fund, Closed Loop Ventures.