Traffic planning to reduce NO2 emissions in European cities
S. Himmelstein | December 03, 2019
Road transport is the largest source of nitrogen oxide (NOX) emissions in Europe, where nitrogen dioxide (NO2) alone was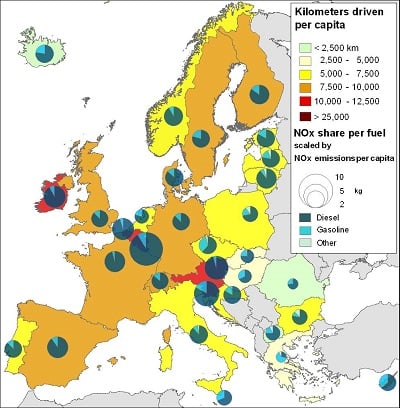 Country share of the NOx emissions per type of fuel (diesel, gasoline and other), correlated with kilometers driven per capita. Source: European Union Joint Research Centerresponsible for 68,000 premature deaths, according to the World Health Organization. Opportunities for reducing such emissions were evaluated for 30 European cities by European Union Joint Research Center scientists.
The contribution of transport to overall NOX emissions in the cities considered is on average 47%, ranging from 20% in Lisbon to more than 70% in Athens and Milan. The effects of implementing low emission zones and other pollution control measures on transport-related air pollution were evaluated by application of the Screening for High Emission Reduction Potentials on Air Quality (SHERPA) modeling system.
Reducing the flow of NOx-emitting traffic by adoption of low emission zones could lower urban NO2 emissions by an average of 40%. Emission reductions of 15%, 13% and 6% are indicated for passenger diesel cars, trucks and vans, respectively.
NOx-emitting traffic flows can be reduced by limiting the access of highly pollutant vehicles, such as older diesel cars, to inner areas of cities. Additional air quality benefits can also be realized by encouraging the use of electric vehicles, public transport and bicycles.