UN report warns of rising greenhouse gas concentrations
S. Himmelstein | November 26, 2019
Levels of heat-trapping greenhouse gases in the atmosphere have reached another new record high, according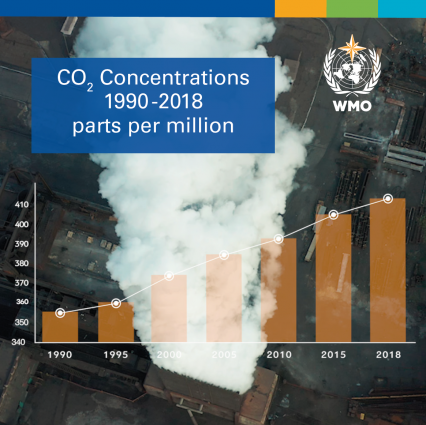 Globally averaged carbon dioxide levels reached 407.8 ppm in 2018, up from 405.5 ppm in 2017. Source: World Meteorological Organizationto the World Meteorological Organization. A new report shows that globally averaged concentrations of carbon dioxide reached 407.8 parts per million (ppm) in 2018, up from 405.5 ppm in 2017. Global levels of CO2 crossed the 400 ppm critical level in 2015.
Global readings indicate that atmospheric methane reached a new high of 1,869 parts per billion (ppb) in 2018, more than two and a half times the pre-industrial level. About 40% of methane is derived from wetlands and other natural sources, but 60% comes from human activities, including cattle breeding, landfills and biomass burning. Nitrous oxide concentrations in 2018 are estimated at 331.1 ppb, or 123% above pre-industrial levels.
These three long-lived greenhouse gases are responsible for a 43% increase in total radiative forcing, or the warming effect on the climate, since 1990. CO2 emissions account for about 82% of this increase in radiative forcing over the past decade and about 81% of the increase over the past five years.
Global emissions are not estimated to peak by 2030 if existing climate policies delineated as Nationally Determined Contributions in the Paris Agreement remain unchanged. A continuation of current policies would lead to a global mean temperature rise of between 3.4° C and 3.7° C by 2100 relative to pre-industrial levels.