Researchers discover that old newspaper can be used to grow carbon nanotubes
Marie Donlon | November 25, 2019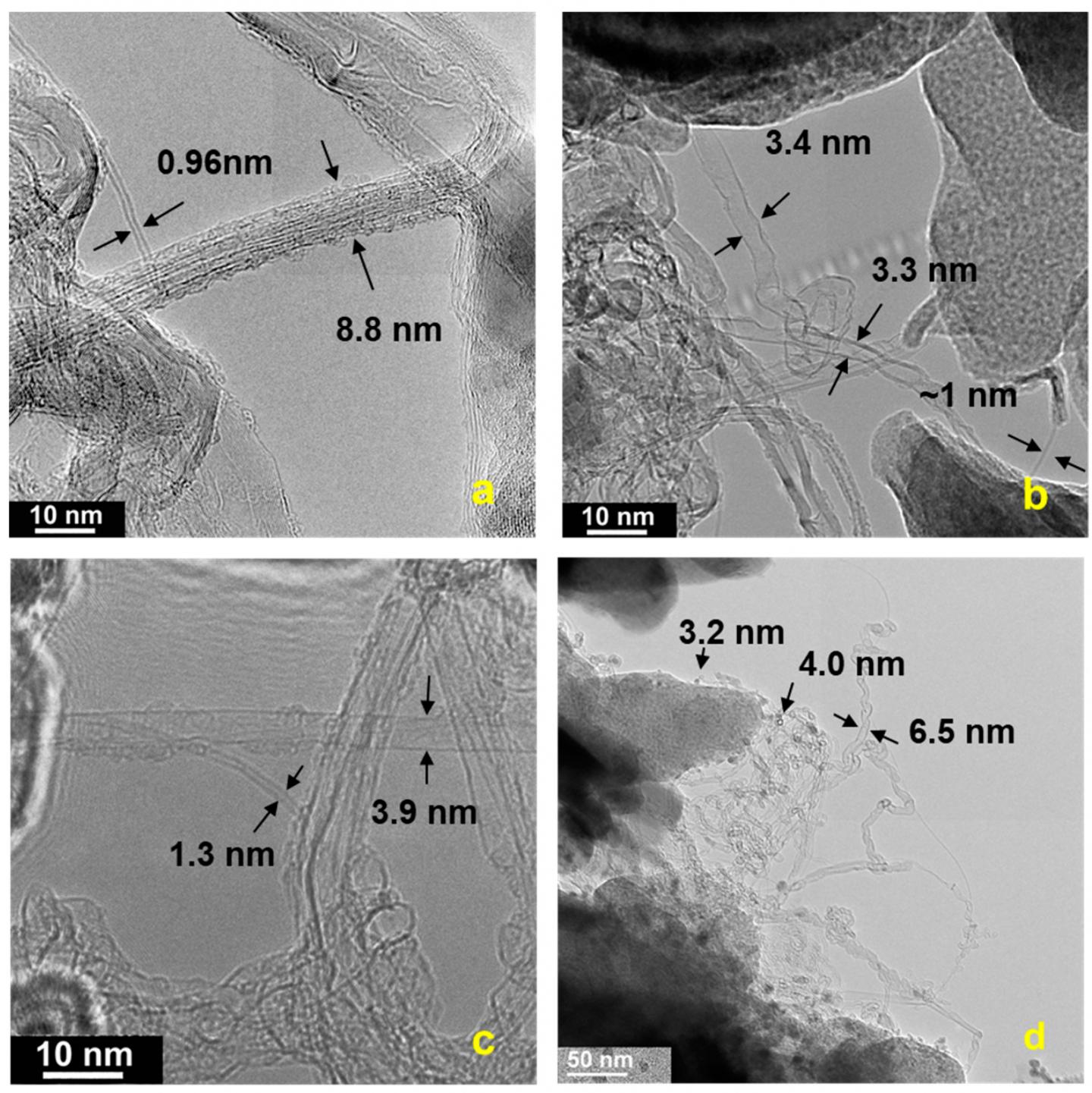 TEM images of raw carbon soot grown on kaolin sized paper showing (a) roped single-walled carbon nanotubes (SWCNTs) helically wrapped by a SWCNT, and large SWCNTs, (b) collapsed, (c) folded, and (d) twisted nanotubes. Scale bar = 10 nm (a-c) and 50 nm (d). Source: Rice UniversityResearchers from Swansea University and Rice University have devised a method for growing single-walled carbon nanotubes using old newspaper as a surface.
According to the researchers, the method, which is considered both inexpensive and environmentally friendly, could potentially solve issues plaguing the large-scale manufacture of carbon nanotubes, which are the minute molecules with physical properties appropriate for a range of applications including flexible electronics, conductive films for touch-screen displays, 5G network antennas and fabrics that generate energy.
Specifically, the approach could potentially offer an inexpensive surface that encourages chemical growth and it addresses the matter of scaling up production since single-surface growth techniques were all that had been available before.
During the study, the researchers concluded that newspaper proved an unexpected way to encourage the chemical growth of carbon nanotubes due to the paper's large surface and use in a roll-to-roll technique in a stacked formation, offering a stackable 2D surface for growing the carbon nanotubes. Yet, researchers warn that not all newspaper is appropriate for this purpose, discovering that only newspaper manufactured with sizing produced from kaolin — or China clay — could encourage the growth of the carbon nanotubes.
According to the team, substances such as talc, titanium dioxide and calcium carbonate can be used in the sizing of papers, behaving as a filler to assist with wear and absorption. However, researchers determined that the kaolin sizing demonstrated how the growth catalyst (iron) was impacted by the substrate.
The team's findings were published in MDPI Journal C.