Video: Kidney transplant via single incision robotic surgery
S. Himmelstein | November 18, 2019
Robot-assisted surgery enables doctors to perform many types of complex procedures with more precision, flexibility and control than is possible with conventional techniques. In a demonstration of the technology's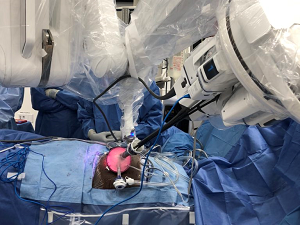 Cleveland Clinic surgeons perform the world's first robotic single port kidney transplant. Source: Cleveland Cliniccontribution to minimally invasive procedures, doctors at the Cleveland Clinic recently transplanted a donor kidney into a patient by means of a single port, or incision, with the aid of a surgical robot.
Surgical tools as well as the donor kidney were passed through a 1.6 in wide abdominal incision designed to reduce collateral damage to surrounding tissue and minimize post-operative pain. The single port approach is expected to benefit obese patients or those with unusual anatomies who would traditionally require numerus incisions to reach target areas.
After the robotic system prepares the site for the donor kidney, it reconnects blood vessels and urinary drainage conduits and finishes by closing the incision. The robotic kidney transplant demonstration paves the way for other procedures to be performed through only a single port.